From the maker of the highly rated Minimal Reader Pro comes this alpha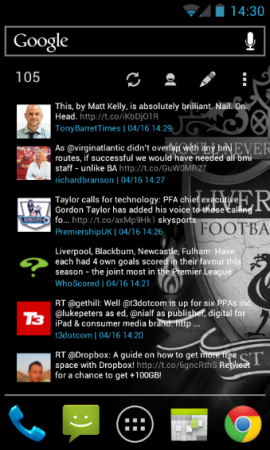 version of Minimal Twidget.
For some time I have been looking for a clean, slick and scrollable twitter widget that is easily configurable and fits in with the overall look of my homescreens.  Minimal Twidget alpha seems to be the answer.
Upon installation there is simply a widget in your widger picker or to add to your homescreen.  The widget comes in two flavours, one for 2.x devices and one for 3.x or4.x devices and is fully resizeable on phones using Ice Cream Sandwich.
When first loading Minimal twidget and after you have input your Twitter access information you are asked if you would like to synchronize your tweets. This having been done your widget is loaded and ready to go.
There is an ICS standard menu option in the top right corner which leads to the configuration screen where you have the ability to set the refresh rates which can vary from manual updates to automatically up to every two hours.
There is an option to change the style of the widget also with the header, background and text size all being configurable.
All this seems pretty standard fare but there is however a killer feature that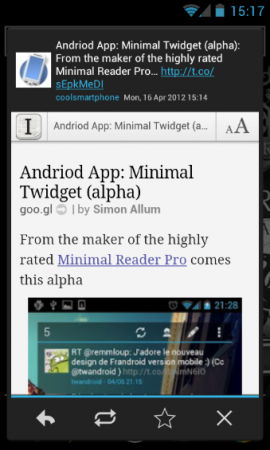 stands out from any other twitter widget I have seen and that is webpage preview.
Simply click on a tweet with a link upon which the tweet opens in a new window and loads the link …genius!  The window loads the link complete with images and video.  I have noticed the occasional formatting issue but nothing that would be worth more than a cursory mention.
E-mail support from the developer is excellent with any queries I have had answered in a matter of hours, feedback and suggestions are also welcomed.
Overall, whilst still in alpha, this is an app which is well worth a try and is worthy of being a full release. Currently available for free from Google Play  I am certainly looking forward to seeing what features and abilities the developer adds before the final version.