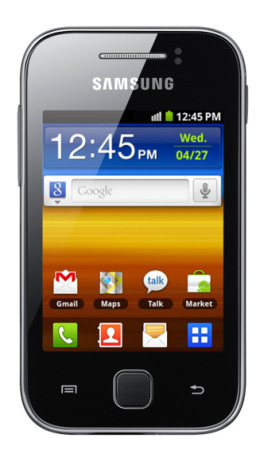 The entry-level Galaxy Y may not be for everyone, but for the money this will get many onto the smartphone ladder and looks pretty swish too.
Powered by an 832MHz CPU it's got a 2 megapixel camera, 3.0" QVGA screen and it sounds like Three are chucking in a 2GB microSD card t'boot.
The Samsung Galaxy Y will be offered up on Pay As You Go plans with all-you-can-eat data for an up-front cost of £79.99. The "All in One 15" plan will then set you back just £15 per month and gives you all-you-can-eat data along, 300 any-network minutes and 3000 texts. If you don't fancy that, just have a nose around their site for other deals.
Link – Three Press Release
Samsung Galaxy Y available now on Three.

London, UK: 11 th April 2012: The Samsung Galaxy Y is available now from Three at www.three.co.uk.

The Samsung Galaxy Y is a stylish, compact smartphone that's lightweight and slim, weighing in at under 100 grams. It has a 3.0" touch screen, and a fast processor which makes it great for playing games, switching quickly and effortlessly between apps and exploring the mobile internet. There's also plenty of internal storage and a 2GB memory card for downloading photos and apps from Google Play.

Sylvia Chind, head of handsets at Three said: "The Samsung Galaxy Y is a great smartphone for people who want quality and style at an affordable price. Three's Pay As You Go plans come with all-you-can-eat data so customers are free to enjoy everything the Samsung Galaxy Y has to offer without ever having to worry about how much they are using."

Pay as you go customers can get the Samsung Galaxy Y for £79.99. All in One 15 costs £15 and gives 30-day access to all-you-can-eat data along with 300 any-network minutes and 3,000 texts. Or All in One 25 costs £25 and offers 500 minutes, 3,000 texts and all-you-can-eat data for a 30-day period.

Key features:

– 3.0" QVGA touch screen

– 2MP camera

– 832 MHz processor

– 97.5 gram weight