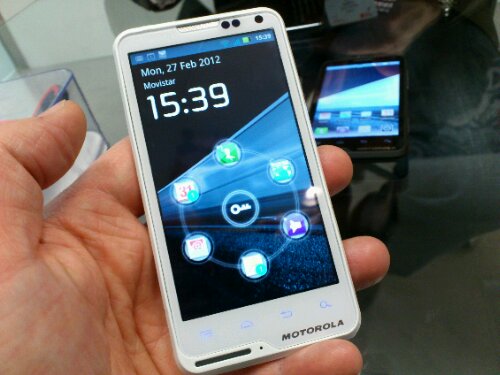 During our Mobile World Congress coverage we caught our first look at the Motorola MOTOLUXE. With an 800MHz CPU it might not be the fastest puppy in the world, but the design of the thing put a pretty big smile on my face.
Tesco have picked up the white version and you can stick it in your trolley for nothing on £20 per-month plans. After signing up for 2 years you get 500MB of data, 250 minutes talk time and 5000 texts per month.
The handset has a 4″ screen, GPS, WiFi, 8 megapixel camera, VGA front camera, microSD and 3.5mm audio. It runs Android 2.3 and we've got some offers on the darker version here.
More details in the official press release below. Have a look at our videos and pictures of the white MOTOLUXE live from Barcelona.
Links – Hands-on with the MOTOLUXE – MOTOLUXE Deals – Tesco Mobile
Ultra-stylish, ultra-vogue smartphone from Motorola Mobility just got cooler with an ice white version available at Tesco online and in-store from today

LONDON –April 11, 2012 –Calling all British style gurus! Get ready for even more choice when it comes to flaunting your fashion flair with the arrival of an ice white version of the ultra-vogue, rail-thin MOTOLUXE ™ from Motorola Mobility UK Limited. The smartphone that combines brain and beauty is available in Tesco Phone Shops and online through Tesco Direct in the UK from today priced free from £20 a month on Tesco Mobile.

When it comes to panache, this Android ™ 2.3 powered smartphone sets the bar high. With a 4-inch touchscreen that's perfect for writing emails, surfing the Web and watching movies, you'll always be connected, clued-up and entertained –whether at work, hanging out with friends or out on the town.

For photo buffs, an 8-megapixel autofocus camera with flash lets you shoot like a pro. You can even instantly share the pics with friends and family using the phone's pre-loaded social networking apps.

But there is a reason this is called a smartphone! Incorporating Motorola's MotoSwitch user interface, the MOTOLUXE learns who you talk to and which apps you use the most, and puts all that information front and center.

The Social Graph feature gives you easy and fast access to the people who really matter. It learns who's most important to you and uses that information to populate the home screen. The more frequently you communicate with someone, the bigger their icon becomes. The Activity Graph focuses on your app habits; automatically changing to reflect the apps you use the most to provide customised menus.

With Music Now you can now play your favorite music while the Smart Gallery feature displays your favorite pictures as collections.

When you're on the go, MOTOLUXE's GPS technology will point you in the right direction and make sure you get to where the action is. If that isn't enough, the phone is Bluetooth ®1 -enabled, as well as your portal into Google Play ™ – where you'll find thousands of games, apps, music, books and movies.

MOTOLUXE also sets itself apart with a lanyard slot that lights up, so you can see when you've missed a call, text or even check battery charge at a glance.

"We are dedicated to offering great value and choice to our customers and we see the MOTOLUXE as one of the must have handsets of the summer," said Tesco Mobile spokesperson. "The combination of the sleek and stylish MOTOLUXE and a choice of great value Tesco Mobile tariffs ensures this smartphone will be sure to turn heads both online and in-store."

"The new MOTOLUXE in white offers even more choice to UK fashionistas when it comes to smartphones that combine sleek style and high-end features that won't break the bank," said Victoria McManus, UK & Nordics marketing director, Motorola Mobility. "Not only does this smartphone have a big screen and the latest, greatest entertainment tools, it's affordable and combined with Tesco Mobile you'll be sure to have plenty left over to take your brand new smartphone out and show it off."

Pricing and Availabily

Motorola MOTOLUXE in white is available free from £20 a month from today in Tesco both online and in-store.