OK, short version. About a week ago we found out that this very site was going to be taken off-line. It all revolved around a rather substantial excess bandwidth charge. Thankfully, you guys cam to our rescue and generously donarted your own hard-earned cash to keep the ship going. We're utterly amazed and stunned by how quickly this all cam together and, thanks to our PR and online friends, we collected together a big bunch of prizes for you.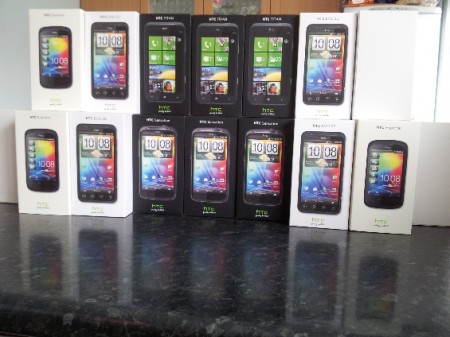 On Saturday we put some special gloves on and picked winners from the many generous donations that you sent in. The winners are as follows. We'll be sending emails out in the next few hours to the winners. Don't worry if yours hasn't arrived yet.
If you didn't win, don't worry – you can still simply tweet to win a HTC Mozart and we'll be keeping the names of those who donated record should further prizes get donated to the pile. We had so many donations, I want to try and reward you all somehow. The reason I've been a little late posting all this is because I'm trying to get an exclusive discount or something similar to try and thank all of you who donated.
I'll be back with more news on our charity donations shortly too. Congratulations to the following people!
3 HTC Explorer handsets – Courtesy of HTC and Nelson Bostock
Nigel Dhillon
Daniel Addy
James Hamilton
4 HTC EVO 3D handsets – Courtesy of HTC and Nelson Bostock
Andrew Holding
Richard Scorer
Andrew Nicholson
Clemmie Gleeson
4 HTC TITAN handsets – Courtesy of HTC and Nelson Bostock
Martin Tomlinson
Simon Jackson
Jordan Maclachlan
John Molyneux
3 HTC Sensation handsets – Courtesy of HTC and Nelson Bostock
John Allerton
Andrew Lamb
Mark Hill
2 Vodafone Sure Signals – Courtesy of Mike from Vodafone
Phillip Thorner
Deborah Stringer
Any phone from the O2 Range – You choose – Courtesy of O2
Martin Clinton
A T-Mobile Vivacity – Courtesy of T-Mobile
Anthony Huggins
A Motorola DEFY MINI – Courtesy of Clove
Douglas Purnell