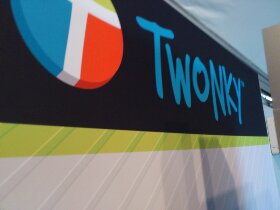 We had a lovely chat with the people from Twonky during Mobile World Congress. The service and software lets you enjoy your media anywhere you want, plus there's now some interesting extra features.
Many handset manufacturers and TV companies are already making it easy to beam your music, pictures and video around your home. Internet TV's, DLNA and WiFi Direct now lets you watch your own media fairly easily, but now Twonky and the myTwonky service will let you use the Twonky Mobile app to beam pretty much anything you find on the web to a "connected TV" or "digital renderer". With all this talk of "DLNA" and "renderers", we thought it best to show you the magic in video.
It's pretty interesting stuff. In the setup below we've got the Samsung Galaxy SII beaming YouTube content straight to my TV over DLNA, then I'm using the Galaxy SII as a remote control via the Samsung Smart View app.
Links – Twonky Mobile – Smart View