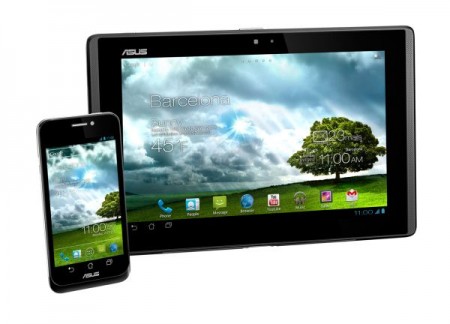 The Asus Padfone, when it was announced, was and still is, widely regarded as the future of the mobile industry. It has the ability to integrate the phone into a tablet, the tablet into a keyboard and the whole lot to an external monitor via its outputs. One device, one set of accessories, all your computing needs.
Today we have heard news that the future is a little bit closer. Asus announced at MWC that the Padfone would be coming out in April and they have kept their word. The device goes up for pre-order tomorrow in Taiwan, with a shipping date of April the 20th.
How much would you pay for the Snapdragon S4 touting all in one set? Keep that figure in mind because there are a couple of options for Asus' Taiwanese customers and they look something like this;
| | | | |
| --- | --- | --- | --- |
| Phone only | NT$17,990 | £385 |  $610 |
| Phone and Tablet | NT$24,980 | £535 |  $850 |
| Phone, Tablet and Keyboard dock | NT$28,901 | £619 |  $980 |
Those prices are a conversion at today's exchange rate, so it might be a tad different when it lands in your part of the world. So if you're not put off by that pricing, we're keeping our ears open for some global pricing from Asus in the coming weeks!
Via Engadget