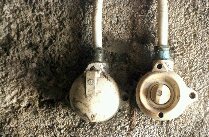 We have a bit of a problem. It's an issue we get every year in February whilst covering the Mobile World Congress, but this year it's one we can't get around. Our coverage of the event means a massive hike in traffic. In years past we've seen bandwidth triple, but this year it was 6 times higher than an average month.
The upshot, and I'll put this bluntly, is that Coolsmartphone will disappear from the internet on Friday unless we pay our bandwidth bill.
I've literally found this out in the last few minutes. Our advertising revenue won't cover the fees, so I've hit a rather large brick wall. My only remaining option is to go cap-in-hand to you guys. If you've enjoyed the reviews and stories that you've read here, please help.
This afternoon I'll be emailing all our PR contacts, companies and networks to try and get some prizes put together. This is all rather rushed unfortunately but the intention is to give prizes out to random people who donate. I want to give you guys something back for helping us.
I hate doing this, but if you have any loose change in your Paypal account, please, please could you help us out. I'll keep you informed over the coming days regarding the prizes and, if we're still online past Friday, I'll get more prizes added.
If you know or represent a company and would like to contribute prizes to those donating, please email me urgently.