Another stand for you now but this one is a bit different. It's not just one stand, it's many, many stands all in one. A multi-purpose stand that you can construct and adapt to your needs. Their Oona website has just one video to show it in action and very little text or description. To be honest, that's all you need.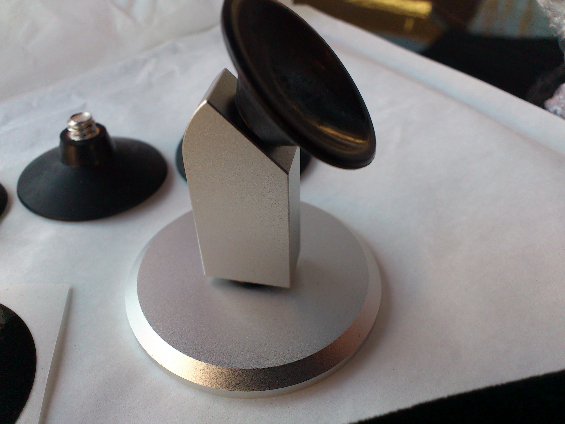 The box consists of the main "block" itself and some suction cups of various sizes. You screw these into the main block, which has various angled sides to screw into. There's then another suction cup to attach your phone to. The guys from Oona give one simple bit of advice – "Lick it before you stick it" and, to be honest, it's great advice and helps everything hold together better.
As you can see, there's also a large silver disk – ideal for having the Oona as a main desktop stand. That screws into the bottom and you stick your phone on top at the 45 degree angle.
Now, a few phones don't have a perfectly smooth and perfectly flat backside, so there's some stick-on black discs within the pack to give better adhesion to the suction cups. They work rather well.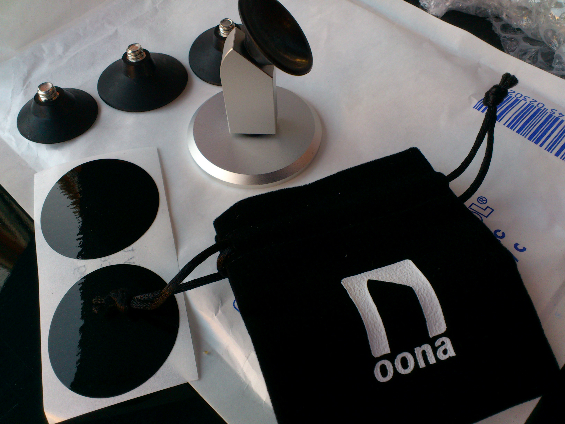 To be honest, there's not a great deal more I can say about this device. It works rather well and I found it a lot better in the car than my normal phone-holder. It was just a matter of popping the phone onto the suction cup and I was away. It's all very simple and effective, plus you get to create the stand that suits you – an ideal scenario. There's a little bag too, so you can carry it around, screw it on and off you go.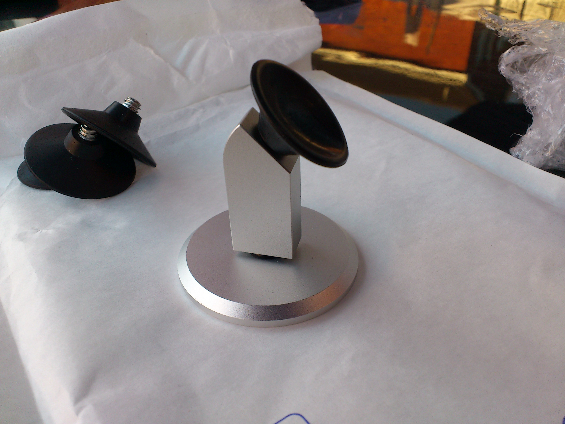 Now, we filmed a hands-on video recently but wanted to add something to it. We wanted to see just how versatile it actually was, and set about sticking it to almost everything we could find. Check out the results below…
The various suction cups are a great idea too – they could've just dumped in suction cups which were the same size, but it's well thought out and I liked being able to screw the "block" onto my windscreen, then sticking my phone on. When I get home, I can screw the block onto the already-placed suction cup on my worktop and boom – another stand. It's all very clever indeed.
The Oona stand is £24.95 from our good friends at Mobi-city and you can buy it from their website below.
Link – Mobi-city