Had enough of leaked Galaxy SIII images? Well tough, because we've got another one for you. This one, though, is definitely tweaking our interest. The image seems to have come from Weber Shandwick, who do the PR stuff for Samsung. In addition, GSM Helpdesk Netherlands seem to have a shot of the very same thing, which leads us to think that this could very well be the SIII for real.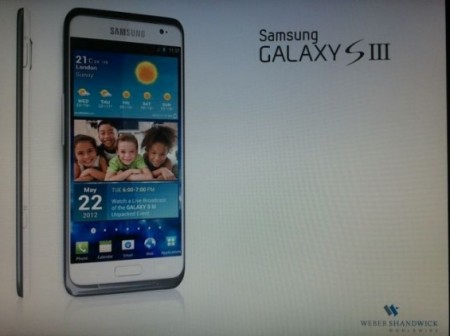 A Tuesday May 22nd launch date has been set, which would definitely "fit" and specs have now become a little more concrete, with a 4.7″ 1280×720 Super AMOLED HD screen, thin bezel,12 megapixel camera (with HD video recording), a 1.5GHz CPU, 32GB on-board storage and a 1750mAh battery.
The device is said to be just 8mm thick and will weigh 125g. We're also expecting the usual GPS, Bluetooth (4.0 is rumoured), NFC, Wi-Fi, HDMI out, DLNA and it'll run Android 4.0 (Ice Cream Sandwich).
Link – GSM Helpdesk