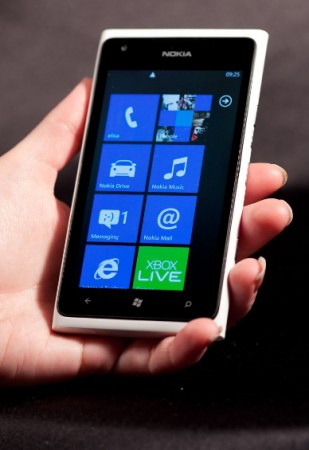 We saw the upcoming Nokia Lumia 900 at the MWC the other week. It is a larger version of the Lumia 800 and there are a few questions people have about the device. Well Nokia Connects have asked Nokia a whole host of questions and some of them provide a bit of an insight into the next couple of months. So here goes.
Q: Does the Lumia 900 support the upcoming major Apollo update?
A: We cannot comment on unannounced platform releases, but regarding Lumia 900 updates, we are committed to delivering the best user experience which includes in-market support with updates and features throughout the life of the product.
Q: From a design standpoint, I've found that not using the cover can lead to scratches on the chrome element around the camera on the Lumia 800, has that been taken into account for the 900?
A: It's the same design on the 900 as on the 800.
Q: Is the camera on the Lumia 900 better than that on the Lumia 800?
A: The Lumia 900 incorporates camera optimisation for focus and colour balance.
Q: When will the tethering update for the Lumia devices be pushed out?
A: It will be in coming soon for 800 and 710 via Zune update, for 610 and 900 it will be available at launch.
Q: Are we going to see any Nokia 41mp camera phones running windows phone anytime soon?
A: We don't comment on future releases but we do expect to be leaders to imaging space and bring this innovation into future products.
Q: Does the 900 have the same audio hardware as the 800 or has it been improved? I also find the speaker volume low on the 800, is it better on the 900?
A: It's the same speaker module on the Lumia 900 as the 800 but based on feedback from the market we have improved the audio tunings.
Q: Are the improvements to the audio tunings on the Lumia 900 to do with hardware or software?
A: It's a combination of both
So judging by the answers from Nokia I can guess the following. Nobody still knows if Windows Phone 8 will be backwards compatible. Another update for the Lumia 800 will be coming soon, enabling tethering and further software improvements for the audio side of things. The Lumia 900 sounds like it has improved hardware for audio. The 610 and the 900 will have tethering at launch. The article also mentions a wider range of accessories as well.
I wish they had asked them which colours would be available at launch and if the Lumia 800 will ever appear in white.
Source – Nokia Connects
More info on the Lumia 900 can be found here on the Nokia Lumia 900 product page.