It's officially iPad launch day today at time of writing this, and Vodafone have just emailed out details on their contracts on offer if you want to get your own brand new iPad on their network in the UK
IMAGE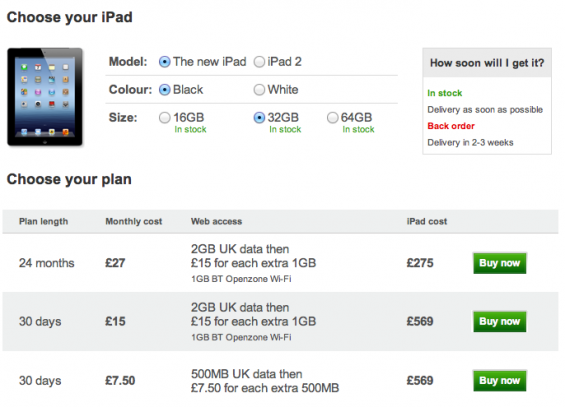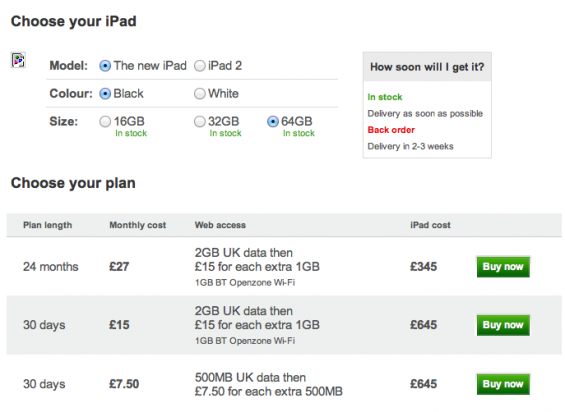 Vodafone UK today announced it will offer the new iPad in the UK on Friday, March 16. Vodafone UK will offer new iPad together with a range of attractive data plans allowing customers to connect through its fast HSPA+ 3G network quicker than ever before.

The third generation iPad is a category defining mobile device that features a stunning new Retina display, Apple's new A5X chip with quad-core graphics and a 5 megapixel iSight camera with advanced optics for capturing amazing photos and 1080p HD video. It also still delivers the same all-day 10 hour battery life* while remaining amazingly thin and light. iPad is world-ready, allowing users to connect to fast networks worldwide when they travel.

"Vodafone UK is committed to putting fast internet into the hands of our customers and the new iPad will help make that a reality," said Guy Laurence, CEO, Vodafone UK. "The original created a new category in consumer electronics while the iPad2 raised the bar even higher. Now we are very pleased to be offering the amazing new iPad on the UK's best network."

Customers can buy the new iPad at all Vodafone retail stores, as well as online and through telesales beginning Friday, March 16. For complete details on pricing and availability please visit vodafone.co.uk/ipad.

*Battery life depends on device settings, usage and other factors. Actual results vary.
Link: Vodafone iPad