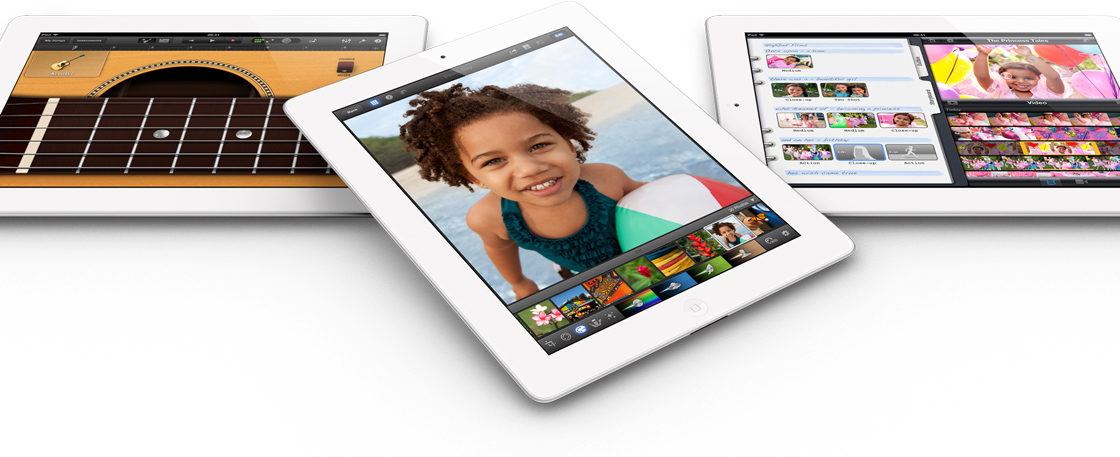 So the details have been revealed and all the rumours, speculation and leaks can end, at least for a few months. Apple have announced the iPad 3 at their special event this evening and to all intents and purposes it looks like  a solid update.
The headlines are:
Retina Display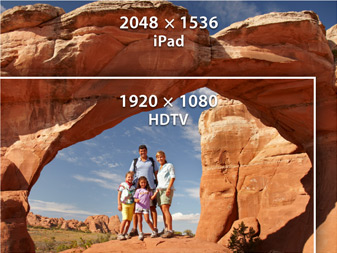 The iPad 3 features an updated display with a pretty staggering 2048*1536 pixels. Basically 4 times the resolution of the iPad 2 display. To give you some idea of the sharpness, it has over a million more pixels than a full HD display, and it's only 9.7″.
However at 264 pixels per inche it doesn't actually meet the 300 PPI benchmark that Apple themselves previously set as the yardstick for being Retina resolution.
A5X
The iPad 3 will be powered by a new A5X processor with 2 CPU cores and 4 GPU cores. Apple are bragging that it has 3 times the performance of Tegra 3, although it's not quite clear at this stage how they're measuring this. Regardless, it'll need that performance to power its display.
Camera
Apple have taken the universally praised camera from the iPhone 4S and stuck it in the iPad 3. This should be a serious upgrade as I know from personal experience that the current unit in the iPad 2 is a piece of junk. I'm not sure if you'll be wanting to take proper photos with your tablet but it's definitely a nice addition. The iPad 3 also gains 1080P video recording at 30 frames per second and stabilisation.
Physical Dimensions & Battery Life
Unfortunately, the iPad 3 has had to increase slightly in size relative to its predecessor in order to fit in all that goodness. It's now 9.4mm thick (up by 0.6mm) and weighs 652g (up from 600g). The increases are likely to accommodate more juice as the claim that battery life is unchanged over the iPad 2, despite the spec bump.
4G
Less relevant to us Brits perhaps, but Apple has added LTE capability to the iPad 3 for those in the US on AT&T and Verizon. Personally I'd stick with the cheaper WiFi versions and use my phone for WiFi tethering.
Price and availability
Despite the fairly significant spec bumps, Apple have managed to maintain the iPad 2 price levels, starting at £399 for the 16GB WiFi only model. The 32GB model comes in at £479 and the 64GB at £559. Adding 3G/4G adds another £100 onto each model.
Verdict
So overall, nothing unexpected but a very solid update. As an iPad 2 owner I don't think there's enough to make me upgrade but iPad 1 owners are probably salivating. And I can't wait to see that screen in action!
Let us know what you think in the comments, and whether or not you'll be buying one.