Keeping track of a project team can be a tricky business, with monitoring tasks, expenses and the like – not to mention dealing with the clients you're delivering to. It's hard enough doing this for one project and one client. But get involved with multiples of those (as the vast majority of businesses do) and the difficulty increases rapidly. Enter Team Time Tracker, an app from Moche Apps designed to simplify the whole process.
On first run, you're prompted to create a staff member. This can either be done manually or by copying details from the iPhone contacts list. In addition to basic contact details there is an entry for the staff member's basic hourly rate, and assigned projects and tasks, more of which shortly. The creation process is straightforward and can be done in less than a minute. The app comes with a maximum of 5 staff enabled – a $4.99 in-app upgrade allows unlimited staff members.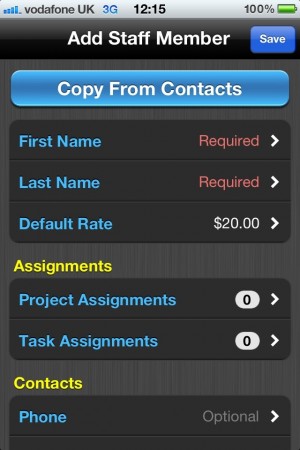 The process for adding clients and projects is just as straightforward – it's all done from the Clients tab; once a client is set up, you can then go ahead and create projects for that client. The client screen allows the capture of the details you'd expect such as contact details, billing method, and client reference number and notes if desired. The project details cover such aspects as the allocated project manager, whether it's a timed or fixed contract, plus a really handy "photo notes" feature which allows the addition of any relevant photos to the project. This could be useful for example when doing building projects. A couple of taps from the project details screen opens up the iPhone camera for you to snap away.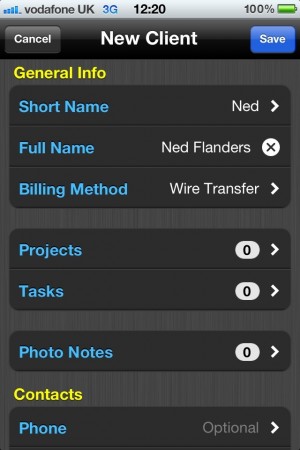 Any project is going to contain several – perhaps hundreds of – tasks, and Team Time Tracker makes keeping track of them a breeze. The initial task set up is practically identical to that of a project. One particularly useful feature is that of timers – when commencing a task, you can set the timer running and assign it to whichever task or project is in hand. On completion you can stop the timer and create an entry in the project log which will automatically calculate the time and billable cost, based on the assigned staff member's hourly rate.
Entries against a project can be recorded manually as well as via timer, and these, along with expenses incurred – recorded in the same easy manner – can all be viewed on the Entries tab, which presents a calendar screen. All entries are marked as a symbol on the date they were created, and tapping on that date shows a summary of the entry beneath the calendar. One more tap brings up the full detail screen.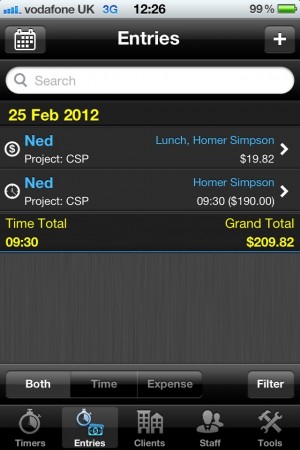 The Entries tab is a great way to get an at-a-glance view of a project's costs. The app allows filtering by client, project, staff or task as well as date – good for keeping tabs on which staff are doing the most work – and displays all entries plus a sum of the total time and cost, based on the filters applied.
Aside from the tracking of projects and staff, the Tools tab provides options for managing the data captured. The user can create reports on time and expenses and export these either as a document to be saved on the phone, or as an email in Excel, PDF and HTML formats – ideal for providing a quick update to a client. There's also the ability to export as a QuickBooks file for those businesses who use it.
On the whole, Team Time Tracker is intuitive, straightforward and easy to use. Navigation through the screens is simple and based around the tabs at the bottom of the screen – my only niggle was that these tabs disappear when drilling down into detail screens, which can leave a lot of tapping "back" if you've gone into a client, then project, then task, then staff. It's only a minor thing, and doesn't detract from the app's all round excellent usability.
Team Time Tracker, for iPad and iPhone, is available from the App Store now, priced £2.99.