Google have decided to rebrand the Android Market under the new name Google Play with different apps for different services. The change is happening right now and you'll soon see your Android Market changing into this….
Bye bye Android Market, hello "Play Shop".
An interesting move by the company, removing the word "Android" completely from the title. This brings all their download services under a single name, which should make things easier in the future.
Check out much more information below including a YouTube video and FAQ, or open your Android Market now to see it magically change before your very eyes 😉
What's your thoughts on this? Is "Play"the right terminology when you're buying items like books?
[yframe url='http://www.youtube.com/watch?v=GdZxbmEHW7M']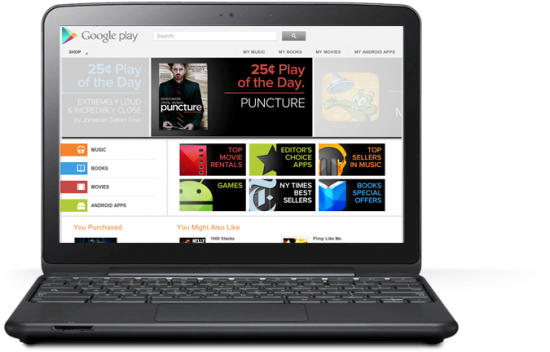 About Google Play

Q: What is Google Play?
A: Google Play is a new digital content experience from Google where you can find your favorite music, movies, books, and Android apps and games. It's your entertainment hub: you can access it from the web or from your Android device or even TV, and all your content is instantly available across all of these devices.

Q: What is your strategy with Google Play?
A: Our goal with Google Play is to bring together all your favorite content in one place that you can access across your devices. Specifically, digital content is fundamental to the mobile experience, so bringing all of this content together in one place for users makes the Android platform even more compelling. We're also simplifying digital content for Google users – you can go to the Google Play website on your desktop and purchase and experience the latest movies, music and books. With Google Play, we're giving you a simpler way to get your digital content.

Q: What will the experience be for users? What will happen to my existing account?
A: All content and apps in your existing account will remain in your account, but will transition to Google Play. On your device, the Android Market app icon will become the Google Play store icon. You'll see "Play Store." For the movies, books and music apps, you'll begin to see Play versions of these as well, such as "Play Music," and "Play Movies."

Q: When will I get Google Play? What markets is this available in?
A: We'll be rolling out Google Play globally starting today. On the web, Google Play will be live today. On devices, it will take a few days for the Android Market app to update to the Google Play Store app. The music, books and movies apps will also receive an update today.
Around the globe, Google Play will include Android apps and games. In countries where we have already launched music, books or movies, you will see those categories available in Google Play, too.

Q: I live outside the US. When will I get the books, music or movies verticals? I only see Android apps and games?
A: We want to bring different content categories to as many countries as possible. We've already launched movies and books in several countries outside the U.S. and will continue to do so overtime, but we don't have a specific timeline to share.

Q: What types of content are available in my country?

Paid Apps: Available in these countries
Movies: Available in US, UK, Canada, and Japan
eBooks: Available in US, UK, Canada, and Australia
Music: Available in US

Q: Does this mean Google Music and the Google eBookstore will cease to exist? What about my account?
A: Both Google Music and the Google eBookstore are now part of Google Play. Your music and your books, including anything you bought, are still there, available to you in Google Play and accessible through your Google account.

Q: Where did my Google eBooks books go? Will I still have access to them?
A: Your books are now part of Google Play. Your books are still there, available to you in your Google Play library and accessible through your Google account.

Q: I don't use an Android phone, can I still use Google Play?
A: Yes. Google Play is available on any computer with a modern browser at play.google.com. On the web, you can browse and buy books, movies and music. You can read books on the Google Play web reader, listen to music on your computer or watch movies online. Your digital content is all stored in the cloud, so you can access from anywhere using your Google Account.
We've also created ways to experience your music and books on other platforms such as the Google Books iOS app.

Q: Why do I not see Google Play yet on my device?
A: Please see our help center article on this here.

Q: How can I contact Google Play consumer support?
A: You can call or email our team here.