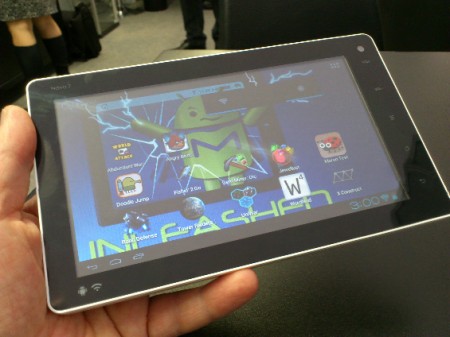 The final day of Mobile World Congress here in Barcelona and, although the crowds are starting to thin out, it was perhaps the best time to go to the very back of these great halls and seek out companies that have great products and ideas but don't always get mentioned in the sea of press releases and product launches.
One in particular is MIPS. They don't make phones or apps – it's perhaps a little more complicated to explain. They are responsible for processor architecture and – before your eyes start to glaze over – let me basically tell you what the end result is. With their range of low power, high-performance processor cores they can be the beating heart of tablets and smartphones. What MIPS call "distinct cost advantages" effectively translates to a well-priced CPU that can be added to well-priced devices.
Now, I know what you're thinking here "low priced tablets = bad experience". Well yes, most of the time that's true. I'm sure we've all seen those really cheap Android tablets in supermarkets. Get them home and you've got a low-resolution resistive screen, flimsy build-quality and worse still – you can't use the Android Market.
Remember those key points – high-performance, low power, low silicon cost and rapid time-to-market. Add this all together and, with hardware vendors paying less for the processor and the technology behind it, there's more cash left over for everything else. They showed me a tablet with the MIPS technology inside. This had a bright 7″ display, a really solid build, good design and yes – a capacitive screen.
Oh, and did I mention the fact that it costs less than $100 ?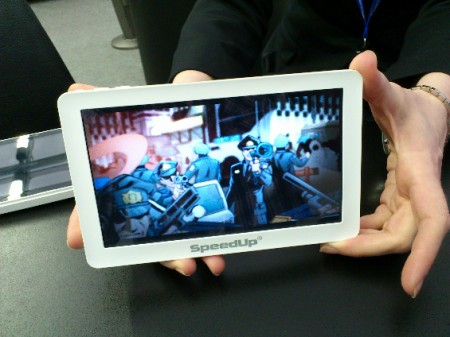 Although you can find a few of these tablets on eBay I'd advise you to wait. The guys from MIPS are well aware that they need key ingredients like Googles' Android Market, and they're in meetings right now to make that happen.
The devices we saw, which included a new tablet with a bigger, higher resolution screen which should cost around $130, really flew. They played HD movies without fuss and there's a big bonus – they're running Android 4.0. Honestly, I was really impressed with the tablets, really impressed.
We filmed the devices in action – don't worry about the "Ainol" name on some of them, they're aware that this perhaps doesn't translate well outside Asia. 🙂 These devices can be re-labelled under different brands, so have a look out for the MIPS sticker on the back.
I'd strongly advise that you keep an eye on this company. They'll be helping to bring you better quality devices with better battery life, better performance and at a great price point.
I want to thank Amit Rohatgi and Jen Bernier-Santarini for chatting to me about their plans.
Link – Mips.com