Imagine your next phone. Perhaps you've already seen it during Mobile World Congress. Now, let me try to guess what that phone will have.
First, I'm guessing it'll have a touch screen. Second, I'm thinking it'll have a high-resolution camera, probably 8 megapixels. It's probably got another camera for video calls, and a fast processor. It'll definitely have GPS, WiFi, Bluetooth and a significant amount of storage.
But will it have a hardware keyboard? Probably not.
People, like it or not, seem to have become accustomed to having an on-screen keyboard, and I've seen some incredibly fast typing during my time here.
I still have a secret yearning for a physical keyboard on my phone. Although there's new quick and accurate software solutions (like Swype), I still find a significant amount of people wanting real keys. Take BlackBerry users for example. Although some handsets are touch-screen, most have that familiar keyboard tucked underneath the screen. Their customers probably wouldn't have it any other way either.
Around Mobile World Congress I searched and searched, but one of the only QWERTY devices I could find was this, the Alcatel OneTouch 916 Smart. Sure, there's a couple of others dotted around on the ZTE stand and elsewhere, but there's only a very small selection.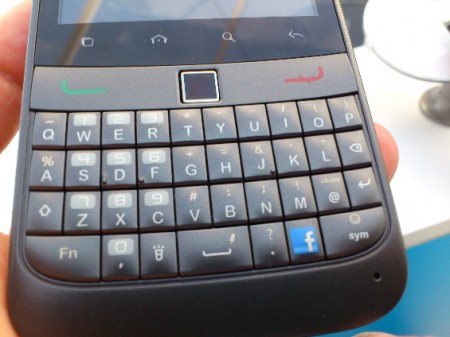 It's not got the highest spec in the world, with a 3 megapixel camera, 650MHz CPU and 3.2″ screen. This seems, on the surface, to be aimed at the youth messaging market. It even has a Facebook button like the HTC ChaCha and you perhaps could see it on Orange due to the HD Voice capability. It does have something that would suit a business-man though, and that's the dual-SIM option. This would make it ideal for those having a work and personal phone. Just slot both SIM cards in and you have the best of both worlds. However, we would have to see a better camera and CPU first.
It's a little puzzling for me. Although BlackBerry handsets tend to be the default phone for many business people, there's nothing stopping Android or Windows Phone offering instant email on a familiar QWERTY design.
The Alcatel One Touch 995 has just been announced (details below), so we had a look at it in the very hot greenhouse that Alcatel have here in the main avenue. It's at the top end of their range, although you're not going to see a quad-core CPU or 8 megapixel shooter. Instead there's a 1.4GHz CPU and 5 megapixel camera with flash and auto-focus. They've added HD video recording and a HDMI port, plus their own user interface on the 4.3″ screen.
We've got shots of the 995 below followed by snaps of all of their handsets.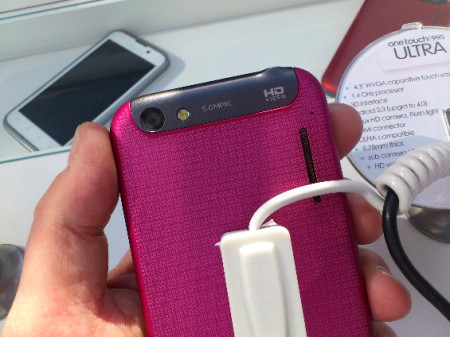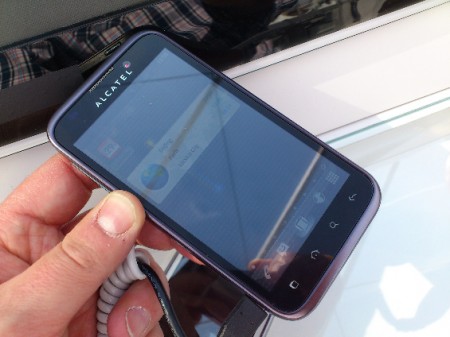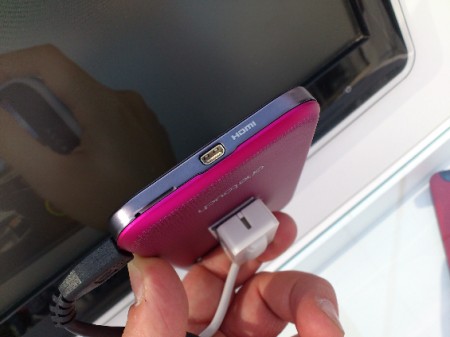 ALCATEL ONE TOUCH Presents its ONE TOUCH 995 ULTRA Model during the Largest and Most Important Consumer Technology Fair in the World
ALCATEL ONE TOUCH, alongside TCL Communication, was present at CES 2012, Booth No. 10531
2012 is the year when ALCATEL ONE TOUCH aims to expand its product portfolio in order to enrich the lives of its customers

press995Las Vegas, Nevada, 10th January 2012. – ALCATEL ONE TOUCH, the company which designs, develops and commercializes a wide range of mobile and Internet products, designed to be as individual as the people who use them, and part of TCL Communication, presented its new elite model (part of its 2012 smartphone and cellular collection) at CES 2012.

"Through our participation in an event as important as this one, we hope that more and more people start to experience the technological quality of our products, which are backed up by TCL Communication, while making the most of our innovative, modern, fun and elegant designs which meet the lifestyle needs of different people, from those who are focused on digital entertainment to those who use their smartphones for business purposes, all with one of the most attractive design-supply-price ratios available on the market", stated Nicolás Zibell, ALCATEL ONE TOUCH's President for America and the Pacific Region.

2012 is the year when ALCATEL ONE TOUCH aims to expand its product portfolio in order to enrich the lives of its customers through advanced features which will offer them a simple, different and elegant experience. 2011 was a successful year, especially during the third quarter, during which a total of 22 models were launched in America, including 3G products which run on the Android Operating System. The company was also presented with a number of international industry awards, including: the "China Telecommunication Industry Enterprise Leadership" award; the "China Smartphones Outstanding Award 2011" award; and the "Rising Star" award in the Best Smartphone for Home Users category at the PC World Latin America 2011 awards ceremony, not to mention "Red Dot" design awards and the "IF Design award".press9951

Proof of this is the official launch of its star product, the ONE TOUCH 995 ULTRA which offers all of the advantages of a high-performance device coupled with a modern and elegant design, combining a 4.3 inch touchscreen, a 1.4 GHz processor, a 5 megapixel camera with flash and auto-focus, HD video recording and playback with HDMI port, the One Touch 3D UI interface1 and One Touch Share enabling users to access and share any content from their cellular phone.

This and other models and products will be available at the TCL Communication and ALCATEL ONE TOUCH booth located in the Central Hall of Las Vegas Convention Center, Booth No. 10531.
http://www.ebay.co.uk/sch/i.html?_nkw=ainol+paladin&_sacat=0&_odkw=aino+novo7+paladin&_osacat=0&_trksid=p3286.c0.m270.l1313