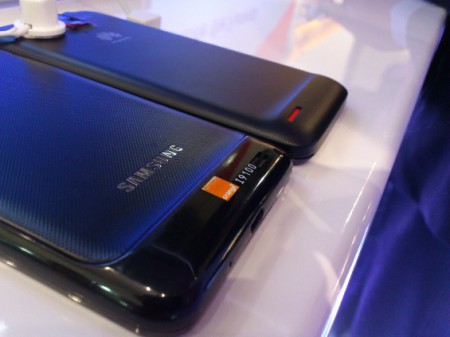 So, we've noticed a bit of a similarity between the two handsets here at Mobile World Congress. We've also noticed something else – namely what happens if you say "D quad" quickly enough…..
Anyways, unfortunately there wasn't time for a direct speed or usage comparison, but we did manage to loan an Ascend D Quad to get some comparison photos between the two and yet more shots of the device up close. We've also added a video showing the screen-switching speed whilst playing HD video.
The D quad won't be out for a while yet – that quad-core 1.2GHz / 1.5GHz CPU is their own and they're working on getting everything tooled up for sale. It runs Android 4.0 and has an 1800mAh battery, Dolby Mobile DM3, "Audience earSmart" technology to give you clearer-sounding calls in noisy environments, 8 megapixel rear camera (with dual LED flash) and 1.3 megapixel front camera. The usual helpings of GPS, WiFi and Bluetooth apply.
Link – Earlier story