ViewSonic have announced four new phones. Not just normal phones either. They are ALL Dual-Sim Ice Cream Sandwich phones.
Mobile World Congress, Barcelona, 26th February 2012 – ViewSonic, a global provider of computing, consumer electronics and communications solutions, today announced the launch of its new range of Dual-SIM Android™ Smartphones, the ViewPhone 4e, 4s and ViewPhone 5e. Additionally, Mobile World Congress will be the first in Europe to showcase ViewSonic's ViewPhone 3 which was launched in January 2012. ViewSonic's new range has been designed with business users and travellers in mind by enhancing the experience of managing work and personal calls in one handset. 
Dual-SIM phones are expected to grow as users prefer to carry one handset for both private and professional use. They allow the use of two services without the need to carry two phones at the same time but yet maintain separatenumbers, data and bills. In addition users can take advantage of different pricing plans for calls and text messages to certain destinations as well as mobile data usage, helping to save on expensive roaming charges while making mobile communication easier to manage.
ViewSonic's dual-SIM phones have pre-installed features to make these phones more efficient for professional and personal users. SRS TruMedia enhances the mobile sound quality and provides the most effective and comprehensive audio solution. The PicSel Smart Office provides full editing capabilities for Microsoft Word, Excel and PowerPoint documents, as well as market leading file viewing capabilities for Adobe PDF documents and images. Using it, users can view and edit files in cloud storage such as DropBox and Google Docs and print documents directly from the mobile device to a wide range of printers wirelessly. With the business card reader, users can instantly transfer information from business cards to contacts with a simple click of the camera. The Ignition Remote Access allows users to control their PC or MAC directly from any Android device using WiFi or 3G.
"ViewSonic's Dual-SIM smartphones are the ideal solution for corporate markets, frequent travellers, those studying abroad or wanting to keep in touch with friends and family overseas. We have designed these phones with the users in mind so while they are sophisticated and packed with features, they are also a simple and effective way to communicate." say Brian Wei, Head of Product Marketing for ViewSonic Europe.
The new phones details are below.
NEW ViewPhone 4s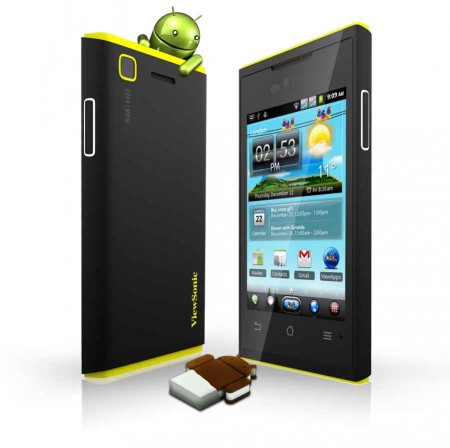 The ViewPhone 4s is a dual-SIM 3.5-inch (diagonal) widescreen Multi-Touch display smartphone running on Android 4.0 Ice cream sandwich. It offers high resolution super clear IPS panel and wide viewing angles. The ViewPhone 4s features a fast response time, 5M auto focus rear camera and VGA front camera making it ideal for video telephony while its innovative unibody design offers a longer lasting performance. The 960-by-640-pixel resolution at 326 ppi, 800:1 contract ratio and 500 cd/m2 brightness means the ViewPhone 4s offers a high quality and detailed display resolution.
As with all other ViewSonic smartphones, the ViewPhone 4s benefits from a dual-SIM capability. The SIM labels can be personalised, the user can select different voice call, and message ringtones per SIM while the Contact List Separation keeps contacts separated and clearly identifies which messages relate to each list. The ViewPhone Android range also has a Multitasking function that allows the user to execute different functions simultaneously such as talking while downloading. Each SIM port is capable of performing independent tasks simultaneously. With an RRP of sub £325, it is ideal for customers interested in product performance, high quality and a stylish handset. European Launch in Q2 2012.
NEW ViewPhone 5e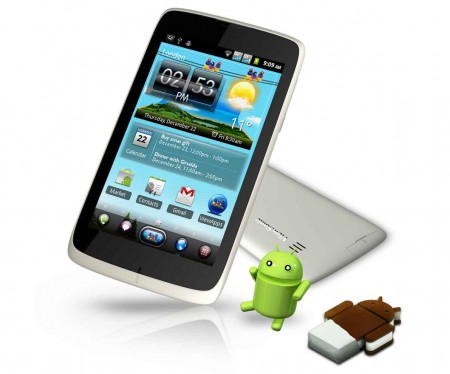 ViewSonic's ViewPhone 5e is first 5" Capacitive multi-touch display to be seen at MWC, running on Android 4.0 Ice Cream Sandwich. With a resolution of 800×480 WVGA producing vivid and high quality images, this screen is hard to miss. This dual-SIM phone is no standard Smartphone, it comes packed with PicSel Smart Office, allowing the user to have full editing capabilities for Microsoft word, Excel and PowerPoint documents as well as market leasing file viewing for Adobe PDF documents and images. The ViewPhone 5e doesn't stop there, the user can also view and edit files in cloud such as DropBox and Google docs, it has a business card reader and the application. With an RRP of sub £390, this is the best dual-SIM smartphone for business and personal use. European Launch in Q3 2012.
NEW ViewPhone 4e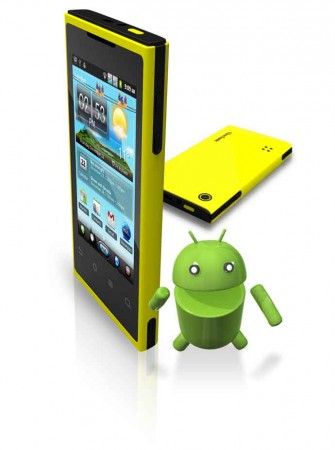 ViewSonic's Viewphone 4e is an entry level Smartphone with a 3.5" capacitive touch display and at only 10.3mm wide is very much an active dual-SIM Smartphone. It runs on Android 2.3 gingerbread operating system, enabling the use of two individual network services at the same time. The ViewPhone 4e has a 650MHz processor, HVGA capacitive touch, 3M fixed focus camera and vivid colour display. Coming with a unique and stylish unibody design that allows the battery time to last longer than the average for a similar model, inbuilt FM radio and good quality streaming capabilities, the ViewPhone 4e does not compromise on its features. The ViewPhone 4e has a RRP of sub £260 making this a high quality Smartphone for someone looking for a media player device as well as an easy travel phone at a reasonable price. European Launch Q2 2012.
ViewPhone 3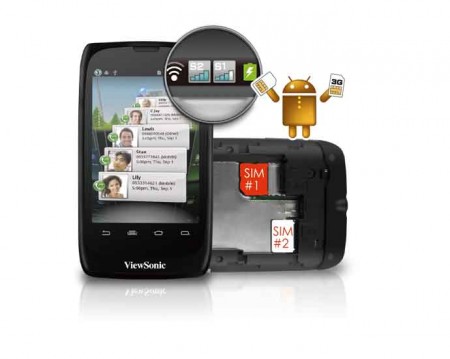 A dual-SIM Smartphone, the ViewPhone 3 allows users to separate work and personal calls, providing more freedom and privacy across both networks, including GSM, EDGE and HSDPA. With a 3.5" capacitive touch display and 5 Mega pixel camera the Viewphone 3 is the next generation of the V350 smartphone launched in 2011 at MWC. The Qualcomm 800Mhz processor and Android 2.3 operating system ensure the phone brings powerful functionality to consumers. The ViewPhone 3 has an ESP of £180 and will be available in late Q1 2012.
These are all obviously mockup images of the devices. No doubt Leigh and Dan who are at MWC will get some actually hands on pictures of these devices. But I feel the 4e, 4s and 5e certainly look like great devices. They all seem to be running Viewscene 3d which we saw the other week on the Viewpad 10e. Which should provide an interesting alternative to the ICS interface.