SPB have been making software for a good few years now and the SPB TV software has been around for most of them. Well now at MWC it looks like they are going to be showcasing a new slant on the SPB TV software. It looks like they are planning on targetting phones, tablets, pcs, laptops, smart tv, set top boxes. It sounds interesting quite how it pans out remains to be seen. Hopefully one of the team will get to talk to SPB at MWC.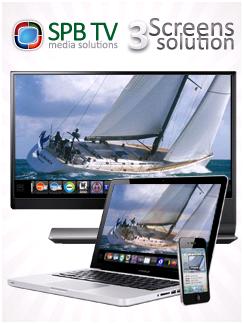 Here is the press release
February 27th, 2012 – MobiWorld Media (SPB TV trademark), the leading provider of technology solutions for mobile TV, announced today the launch of the SPB TV Solution for Three Screens, enabling mobile operators, cable, satellite, and IP TV service providers to enhance their TV broadcasting expertise and deliver HD television to their subscribers across all screens, including mobile phones, tablets, PCs, set-top boxes and smart TVs. Being affordable, fast to market, and easily manageable, the solution allows providers to increase customer engagement and revenues with relatively low investments.
"During the last MWC we received a lot of requests to elaborate the TV solution for multiscreen devices, the same convenient, flexible, advantageous for the providers, and enjoyable for the end-users, as our mobile TV," says Kirill Philippov, CEO of MobiWorld Media, "SPB TV Three Screens, unveiled at MWC 2012, exceeds these expectations and offers multiscreen HD video delivery, content protection and plenty of sophisticated features that empower our partners to reach new markets and beat the competition there."
The key-element of the solution – SPB TV Media Platform – incorporates professional encoding and streaming servers and is capable to process all modern video formats from various inputs, both IP and satellite. SPB TV platform supports adaptive streaming technologies, such as RTSP, Apple HTTP Live Streaming (HLS), Microsoft Smooth Streaming and Adobe HTTP Dynamic Streaming, that ensure smooth video delivery, without frame drops or blurriness, across various network bandwidth capabilities. Due to multi-rate video encoding for different screen resolutions the platform provides the best video quality on any device, from a tiny feature phone to a large HD TV set. The advanced middleware provides the operator with content management and conditional access systems available from one control point.
The solution is packed up with an award-winning SPB TV Client, which advanced functions and eye-catchy design elements make TV watching experience comfortable and enjoyable for the subscribers.
SPB TV solution can be delivered in a server-based or software-based configuration, and seamlessly integrated with the existing infrastructure, CMS and billing system, providing high scalability to support the consumer growth. To the providers looking for a turn-key service, SPB TV offers a cost-effective package, including content aggregation, hosting, multiscreen and multiplatform content delivery and the best in class client-side software.
SPB TV Three Screen Solution main features:
Server-based or software-based solution;
Single platform for seamless multiscreen delivery to Mobile, Tablets, PC, Set-Top Boxes and Smart TVs;
Supporting both Live and on-demand video delivery;
Bandwidth adaptation technologies support: RTSP, Apple HTTP Live Streaming (HLS), Microsoft Smooth Streaming, Adobe HTTP Dynamic Streaming;
Centralized conditional access and content management systems, that allow managing access and tracking content distribution from one control point;
In-stream advertisement;
Intuitive user interface.