Acer are really pushing for good things at MWC next week. They have today announced another handset that they will showing off next week.
The Acer Liquid Glow is going to be a WVGA display type device, it will have a 5 megapixel camera, LED flash, panoramic capture, touch focus. It will have Qualcomm 1GHz processor, 1GB storage and 512MB Ram. Dimensions of the device are 117×58.5×11.5mm.
It will come in several different colours, Pink (eeek), white and black. They are really pushing the fashion element with this device. It does look nice though. Still not sure about pink devices though.
One thing that does pop out from the screen is that it is running Ice Cream Sandwich which is nice to see. Many manufacturers are still releasing Gingerbread devices.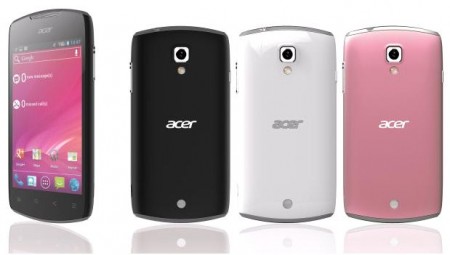 As usual here is where I say whatever Acer announce next week we will be there to cover it. So keep your eyes on us.
Update – Acer have now released some official info about this device. Here is the press release.
"Acer presents its Liquid Glow smartphone at the 2012 Mobile World Congress in Barcelona. Based on the Android 4.0 Ice Cream Sandwich operating system, this smartphone brings the ultimate balance between style, performance and affordability — ideal for today's fun-seeking, social-networking youth.
The Liquid Glow sports a 3.7-inch screen and portrays Acer's signature look with nice curves, chrome details, and a soft-touch casing combined to deliver the perfect size, grip and feel. This new smartphone will be available in a series of trendy colors: Sakura Pink, Alpine White, and Cat's-eye Black. Going a step further, the onscreen display style varies with the external color, making each smartphone a unique fashion statement.
The Liquid Glow brings together the power and the convenience of Ice Cream Sandwich, providing a user-friendly interface along with widgets to easily stay connected, entertained and updated. It also works with the latest voice-input engine from Google, which guarantees a continuous "open microphone" experience and streaming voice recognition.
The smartphone's 5 MP rear camera features an LED flash for low light, as well as panoramic image capture and touch focus. With Android Beam, photos can be shared by a single tap with another NFC powered Android device, without the hassle of launching application or pairing. What's more, Android Beam can also share anything like contacts, favorite apps, music or videos instantaneously through NFC.
Please come and see the new Liquid Glow smartphone at Acer Pod, located inside the Google Android Booth, Hall 8 – 8C25.
The Acer Liquid Glow will be available in early summer 2012."
Source – Pocket Lint – Acer