Phones4U will shortly be selling the Motorola RAZR exclusively in white… and by shortly we mean just days away starting 1st March!.
The RAZR was recently reviewed by myself and you can see this review here.  For more information check out the press release below.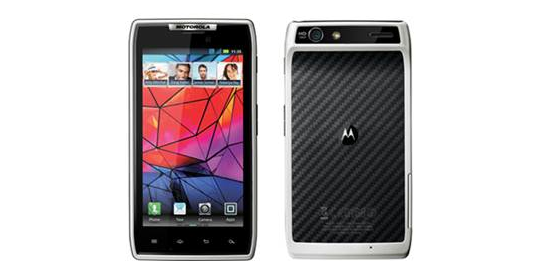 LONDON – Feb. 23, 2012 – More seductive than ever, the astonishing Motorola RAZR™ from Motorola Mobility UK Limited just got cooler with the availability of a pristine white version at Phones 4u. This impossibly thin and lightweight smartphone is distinguished by its unique design, and now offers two classic colour choices – original black or pristine white.

Motorola RAZR in white is available starting today for pre-order, both online and in-store, from free from £21.50 a month on contract. All customers who pre-order or purchase the Motorola RAZR in either black or white before 25th March, 2012, will be entered into a prize draw to win  2 tickets to Snowbombing, the greatest show on snow, taking place in Mayrhofen, Austria (April 9-14).

"We are delighted to be the first UK retailer to stock Motorola RAZR in white, offering our customers even more choice when it comes to this iconic handset. Customers have often had to make a choice between fashion and function, however this feature-packed smartphone delivers the best of both worlds," said Scott Hooton, Phones 4u Chief Commercial Officer. "We're confident that the white edition and the fantastic Snowbombing promotion that kicks off today will be a huge hit with our customers."

Motorola RAZR boasts a gorgeous sculpted, glass screen, diamond-cut aluminum accents, and a hyper-vibrant 4.3-inch Super AMOLED Advanced display for incredible vivid images. It also sports KEVLAR® fiber (yes, that KEVLAR) and Corning® Gorilla® Glass to help the screen stand up to scratches and scrapes. And every part of the Motorola RAZR is protected by a splash-guard coating, which even extends to the electrical boards inside.

"Since we re-imagined the iconic RAZR brand, the new Motorola RAZR has wowed consumers across the globe with its beauty inside and out," said said Victoria McManus, UK marketing director, Motorola Mobility. "Brits are renowned for their style, sophistication and love of cutting-edge technology, so the new white Motorola RAZR will surely stand out from the smartphone crowd, whether it's destined for the runway or the boardroom."

Motorola RAZR is beautiful on the inside too, with 1GB of RAM and a dual-core 1.2GHz processor and Android™ 2.3.5, enabling a lightning-fast user interface and the power to multi-task like never before.

You can rock your playlists while checking email, breeze through photos – all at the same time, without delay. Motorola RAZR comes preloaded with the Motorola MotoCast™ app1, giving the power to stream or download content from a home or work computer straight to the device so your personal content is always within reach.

Watch movies on a screen that sports a wider range of colors than most LCD HDTVs. And when tired of watching (as if), use the cinematic-quality front-facing 720p HD video camera and 8-megapixel rear-facing camera with even sharper 1080p HD video capture to create your own movies – all with image-stabilization technology to turn your life into art without breaking a sweat.

Work Smart, Not Hard

Government-grade encryption ensures that your email, contacts and calendar are fully protected. Even your strict IT manager will be impressed. Motorola RAZR offers remarkably intelligent, preloaded application Smart Actions – that that lets you automate everyday tasks and enable better battery life. Smart Actions can turn down the ringer when you step into work, change the Bluetooth® and GPS settings when you get home to save battery, or send a text to someone if you cannot answer their call.

Availability

For further information on, or to pre-order the Motorola RAZR today, click here.

The Motorola RAZR in white will be available from 1st March. Free from £21.50 a month on contract, on a choice of networks.