Panasonic have been saying they were planning on entering the phone market again. With Android handsets. Well know they have actually released a load of information and pictures about their upcoming device the Eluga. Strange name, but hey look at it and you soon forget the name. It is going to be a super thin, waterproof, qHD device that really does look amazing. They have said that it will arrive in Europe in April as well. So cross those fingers. At the bottom is a link to the Panasonic site if you want any more info.
Introducing a smartphone that embraces style and resists water: The ELUGA. Enjoy its super-thin frame and big screen with 66% display area ratio. Moreover, experience its ergonomic design, which makes it easy to control everything with one hand. Packed into a super-compact, simple and smooth body.

Ultra slim design with ergonomic shape
Panasonic takes slim to a higher level. With its curved edges, the ELUGA has a new smartphone format, which will fit your hand nicely and your pocket seamlessly. Its intelligent handling makes it easy to control everything with just one hand. Smart has never been so slim! Available in classic black and silver.
Panasonic ultra light
With a weight of 103 g, the Panasonic ELUGA is ultralight, making it the perfect accessory everywhere you go.

Absolutely stunning picture quality
With the Panasonic ELUGA, you can view your world in quarter high definition (qHD). Its 4.3″ (10.9 cm) capacitive OLED qHD screen – with a slender 123 × 62 × 7.8 mm frame – offers a resolution of 960 × 540 px and the largest display area ratio currently on the market. This makes the pixel density so high that you'll be unable to pick out an individual pixel. The ELUGA offers truly vivid colours, enhanced readability and outstanding sharpness as standard.
Full-scale screen with super-thin Frame
Compared to other phones with the same display size, the ELUGA has virtually no frame but an even better resolution. With a display area ratio of 66%, it offers the largest display area ratio currently on the market.

Outdoor ability with urban style
Smartphones are cutting-edge technology – but once a phone is dunked underwater, it's destroyed. Wouldn't it be nice not to worry about your mobile device, should it take a tumble into the sink? With Panasonic's ELUGA, you no longer need to fear water or dust. Its waterproof technology makes it ready for outdoor activities but it also retains a metropolitan design.
Approved with an IP57 certificate
The IP Code is an international standard to mark protection categories. IP57 means that the ELUGA is waterproof and dustproof. It was tested by being immersed into water at a depth of up to 1.5 metres for 30 minutes – without taking any damage. More than enough to protect you against accidental splashes.

Panasonic's NFC Applications
The Panasonic ELUGA with NFC applications makes your life easier. Share contacts, links, pictures, directions or apps with other NFC-enabled Android phones. Start your workflow with just one touch of your IC tag card. The open standard NFC makes the ELUGA future-ready – enabling you to take advantage of contactless infrastructure in public transportation and mobile money and ticketing applications
NFC Chipset
The Panasonic ELUGA integrates the latest technology. NFC will change your world – unlock your phone, start applications, change your style or profile in seconds with Panasonic NFC tags* or cards.

Smart has never been so efficient
ELUGA's Eco Mode helps you to save energy and to achieve a longer battery life. If the power of your battery falls below a defined amount, ELUGA automatically turns off certain functions and setting changes. In this way, the phone uses less battery power.
For example, the function reduces the display's timeout, terminates background applications that aren't being used and limits the processor's consumption because the usage is limited on normal apps. Get the most out of your phone – in every situation.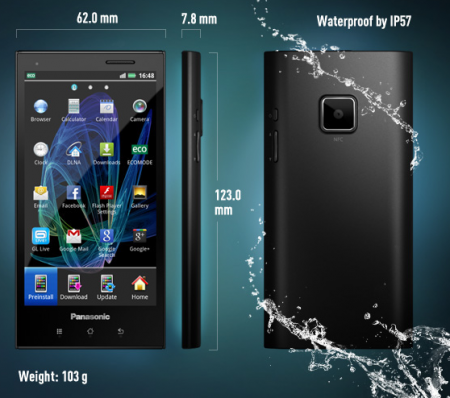 Basic Specifications
. TI (Texas Instruments)
1 GHz processor (dual core)
. 1 GB RAM
. 8 GB integrated memory
. Micro SIM
. Colours: black/silver
Operating System
. Android Gingerbread
(Version 2.3.5)
. Update Android 4
(Ice Cream Sandwich)
from Spring 2012
Camera
. 8 MP auto-focus camera
. Digital zoom
. Image stabiliser
. Video recorder
. Video codec H.263; H.264;
MPEG4, DivX support
Screen
. Size: 4.3″ / 10.9 cm
. 16 million colours, capacitive qHD
. qHD (960 × 540 px)
. Full touch screen
Source – Panasonic