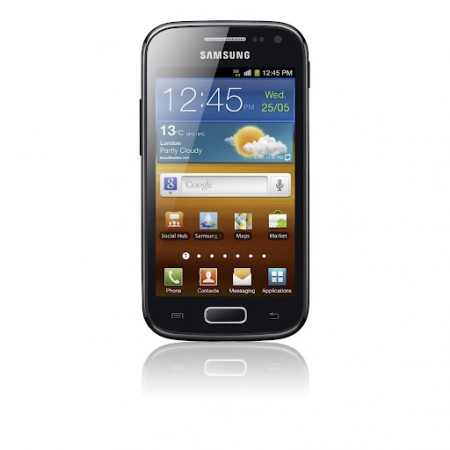 It looks like that earlier leaked info has now become clearer, with Samsung adding details of the Galaxy Ace 2 (above) and Galaxy mini 2 (below) online.  Powered by Android 2.3, the Ace 2 should arrive here in April and the mini 2 probably at around the same time.
Specs-wise, the Ace 2 has 800 MHz dual-core CPU, 3.8″ WVGA screen, 5 megapixel shooter at the rear, VGA camera up front, stereo FM radio, 3.5mm audio, Bluetooth, WiFi, GPS, 4GB of on-board storage, microSD and optional NFC with a 1500mAh battery.
The mini 2 has an 800MHz CPU, 3.27″ HVGA screen and a 1300mAh battery. It also comes with a 3 megapixel rear camera (fixed focus), stereo FM radio, 3.5mm audio jack, aGPS, WiFi, Bluetooth, 4GB of on-board memory (plus a microSD expansion and the usual sensors.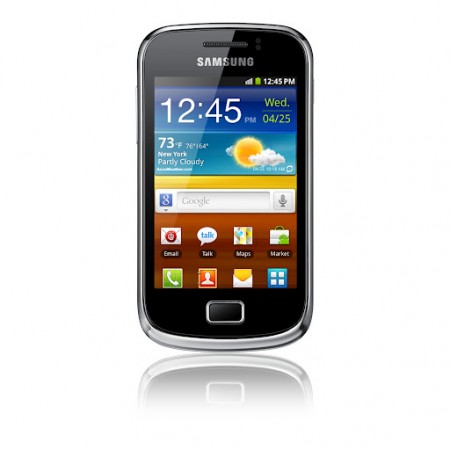 Links – Earlier story – Samsung Press
Links – Galaxy Ace 2 Details – Galaxy mini 2 Details
Samsung introduces the new GALAXY Ace 2 and GALAXY mini 2 February 21, 2012

Welcome to Samsung's Android™ experience with the two new members of GALAXY smartphones

SEOUL, Korea – February 21, 2012 – Samsung Electronics Co., Ltd, a global leader in digital media and digital convergence technologies, today announced two new additions to the GALAXY smartphone range: GALAXY Ace 2, which will be available in UK from April, and GALAXY mini 2, which will be available in France from March before being rolled out globally.

Building on the market success of GALAXY Ace and GALAXY mini since their release last year, GALAXY Ace 2 and GALAXY mini 2 are ideal devices for users with active lifestyles who value individuality and style without compromising on performance or affordability.

"Launched in 2011, GALAXY Ace and GALAXY mini have been a huge success in the global market. Today, we introduce GALAXY Ace 2 and GALAXY mini 2 with upgraded features and services," said JK Shin, President of IT & Mobile Communications Division at Samsung Electronics. "Our goal remains the same—to continue to create new and improved mobile experiences that deliver something suitable for everyone. This is the hallmark of Samsung's GALAXY range and what has made the GALAXY brand such a runaway hit with consumers around the world."

Double-Engine Power, GALAXY Ace 2

GALAXY Ace 2 delivers efficient multitasking, lightning-fast screen transitions and high-quality graphics for even the most demanding applications and games. HSPA 14.4 connectivity provides an enhanced browsing experience and fast content downloads with minimal lag-times. Additionally, 4GB of internal storage ensures that films, photos and a whole array of personal multimedia content can be easily stored and taken out and about; a 1,500mAh battery adds to GALAXY Ace 2's on-the-go performance for active, demanding use.

Enhanced Samsung Hubs and ChatON services ensure that users are never far from the content or social connections they care about. Music Hub allows one-step access to over 17million tracks at anytime; Game Hub offers users the very latest gaming titles; Social Hub allows users to view their instant messages, social network and email communications all in one single inbox. Samsung's ChatON service connects users with other phone users – across any platform – into a single community, providing easy multi-format instant messaging and group chatting.

Compact and Trendy for more fun, GALAXY mini 2

GALAXY mini 2 packs a real performance punch into its slim and colorful 11.9mm-thick casing. The 3.27" HVGA touch-screen enables high-quality multimedia viewing while maintaining the device's portability. The compact GALAXY mini 2 ensures comfortable Web browsing and easily handles the demands of the most resource-intensive applications.

An improved 1,300mAh battery capacity also guarantees extended multimedia usage and longer chat sessions. 4GB of storage allows users to comfortably store videos, music and images.

Like GALAXY Ace 2, GALAXY mini 2 keeps users connected through ChatON and Social Hub, while Music Hub allows one-step access to over 17million tracks at any time.

For multimedia content and more detailed information, please visit www.samsungmobilepress.com.