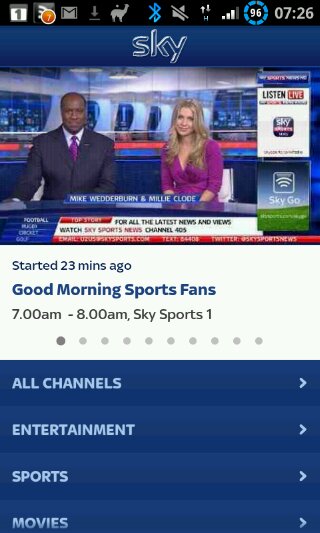 A short while back Sky announced Sky Go – the mobile TV application – was soon to be available for Android. Since then we've had TV adverts promoting the service and today, at some point after 8AM, you should be able to download it from the Android Market.
A selection of channels are available to watch, including Sky Sports, Sky Atlantic and Sky 1 will be joining the lineup tomorrow. You get an easy to use interface, programme listings and descriptions after logging on with your Sky ID.
Let us know if you've got it and what you think! 😉
Update – Download it here!
Update – OK, there's quite a bit of discussion about compatibility. According to Sky….
Sky Go is supported on the following Android smartphones running on 2.2 & 2.3 operating systems: HTC Desire, HTC Desire S, HTC Desire HD, HTC Incredible, HTC Sensation, Samsung Galaxy S, Samsung Galaxy S II. 
…so not for everyone… and it looks like rooted phones have trouble too. Hopefully this can be fixed pretty soon …