Virgin Mobile have said they are exclusively taking the Samsung Galaxy S Plus in white on their UK network and it is available to buy from their website right now.
Virgin Mobile are one of the UK's 'Virtual Networks' and have access to the Everything Everywhere network so coverage should not be an issue .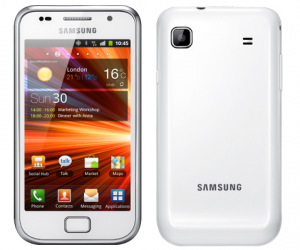 SOMobile have said
Over at Virgin, you can pick up the White Samsung Galaxy S Plus for free on a £15.99 contract, although this'll get you a mere 75 minutes, 250 texts and 250MB data. We'd recommend upgrading to the network's 24 month £30.99 tariff, which will equip the phone with 300 minutes, 2500 texts, 500MB data three months free Spotify Premium.
The Galaxy S Plus features a 5 megapixel camera, large screen, GPS. WiFi and a large 1650mAh battery which should be enough to get you through the day.