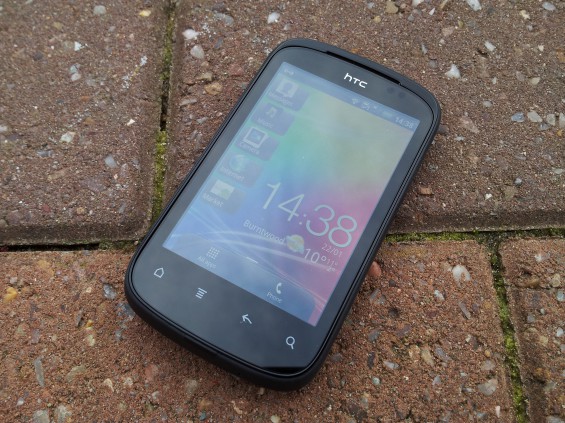 The Explorer is a fairly diddy device. It feels almost square in the hand and is a petite 102.8mm (about 4.05″) by 57.2mm (2.25″). The screen is 3.2″ but the resolution is only 320×480. I say "only" because I'm a techy geek at heart. To be honest that resolution is a little low for people like me, but let's be straight up front here, this device really isn't aimed at people like me. It's a smartphone aimed, and priced, at new users.
Now, let's not dwell on the specs if you're a techy freak like me. 600MHz CPU, 3 megapixel camera – look, a giraffe. There's a 3.5mm audio port, G-sensor, Bluetooth 3.0, WiFi, FM radio, proximity sensor, light sensor, GPS and a 1230mAh battery.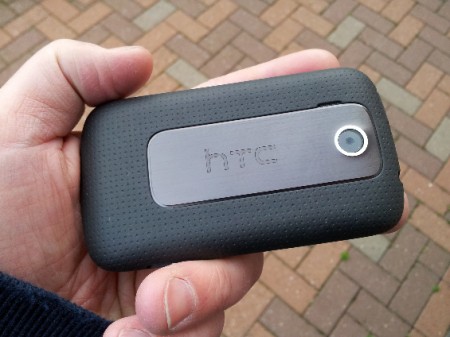 Outside
The rear panel is plastic with a rubberised outer shell. It covers the battery which houses the microSD slot, batter and, beneath that, the SIM card. Remove it and it'll actually make the phone smaller as it also forms the outer shell.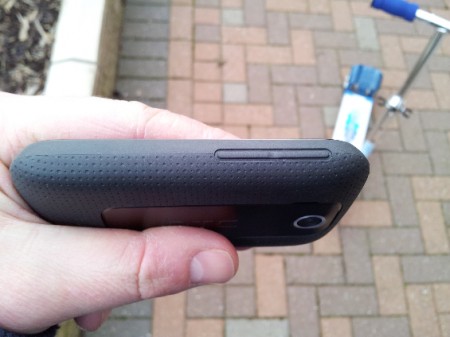 On the right-side there's the volume up and down controls. These aren't actually connected directly to the device itself, they're merely attached through the outer shell.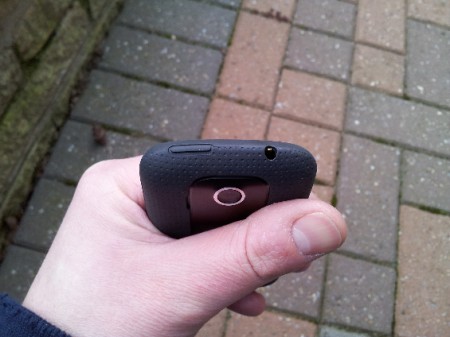 At the top there's the power button and a 3.5mm audio port for your handsfree kit etc.
To the left, the microUSB port for charging or transferring data from your microSD card.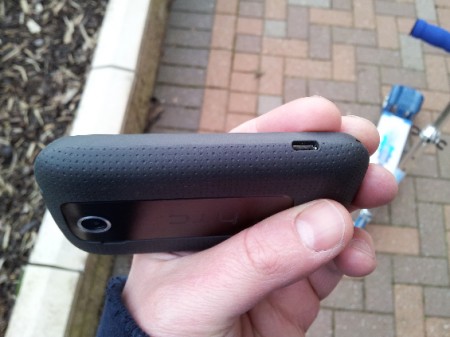 The front of the device is the usual polished plastic and is cool and sturdy. There's four soft-keys, Home, Menu, Back and Search. The Search button changes it's use depending on the program you're using. It'll still search, but it'll search within the context of the program.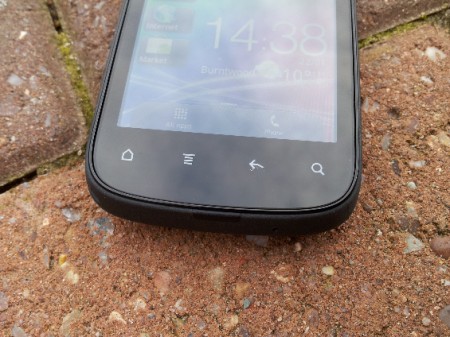 The phone, on the whole, works very well and feels really good in the hand. It's a very good size and doesn't feel like unusually large or even "smartphoney".

Inside
HTC have added some extra tweaks to their usual Sense interface to make things a bit simpler and easier. Now yes, the screen is of a lower resolution, but I didn't find it restrictive at all. Icons aren't stretched or overly large and it's not cluttered at all. HTC have added a data monitor so you can keep track of your data usage. To be honest this is a great idea. I've known first-time smartphone users just turn off data, full stop. They're not used to having always-on data and they think it's going to cost. The easy option is to just turn it off, which kinda kills the point of having a smartphone. It's not just data, this shows the amount of minutes you've used and the amount of messages too. This should really appeal to Pay As You Go users or those on slimmer mobile plans. You know where you are, all the time, and you can decide whether to grab that MP3 or watch that YouTube video or not. Let's not forget the WiFi too, this feature is always a bonus for using the phone at home or on public WiFi networks, because it won't chip into your mobile data allowance.
The main home screen has changed a little too. This is a thinner, lighter version of HTC Sense which adds some speedy access into all the regularly-used portions of the phone. It's pretty clever too, it'll show you who the last caller was, what the last music track was, the last picture you took and so on.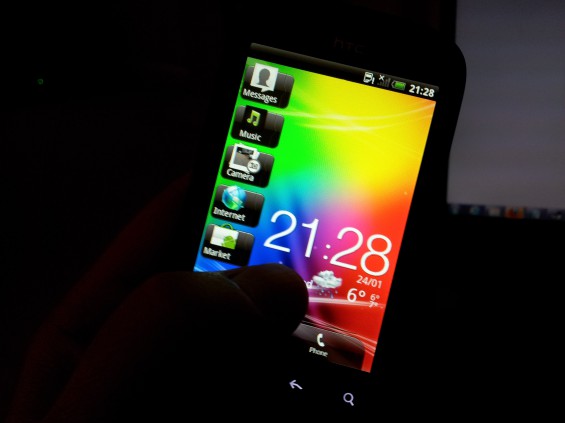 The slimmed-down HTC Sense doesn't feel like it. The HTC Weather widget is still a joy to look at and use, and I had no issues with the other HTC extras either. This being Android, you can drag and drop apps onto the main screen and organise them as you see fit.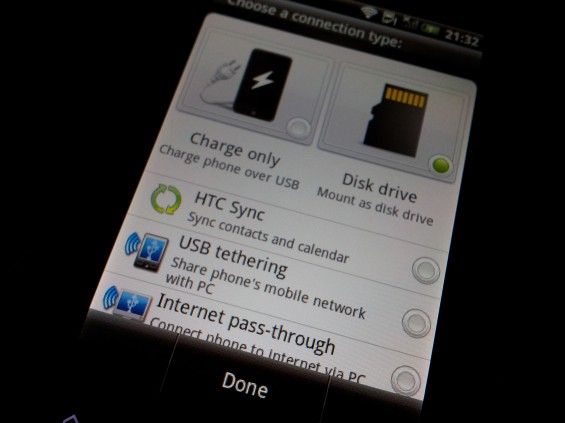 The HTC Sense interface and Android UI lets you drag items around, create folders and change the backdrop, lock screen and pretty much every other item. You can alter your ringtone, message tone and stacks of other notification sounds easily too. It's totally customizable and you can quickly and easily make this your "own".
Other features, which we as "geeky" users are used to seeing, include online account sync'ing with Google – that's calendar, email, tasks and contacts. You can also set up Exchange users and POP3 accounts easily. It also lets you use the on-board microSD card as a disk drive too, just in case you have some important files … or music .. you want to carry around with you.
Despite the new "lighter" HTC Sense we still get the rather glorious HTC Weather widget, which looks rather lovely indeed..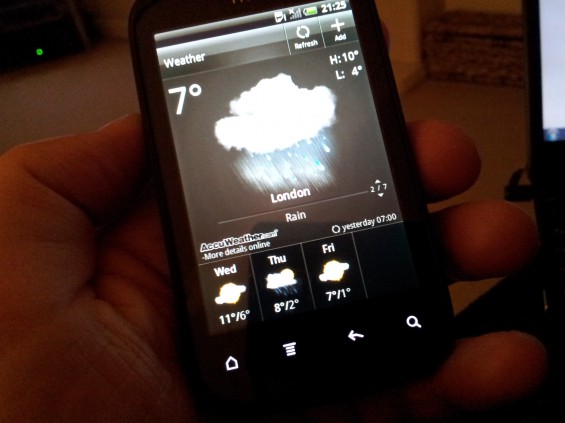 The camera seemed, when I first used it, seemed pretty terrible. After a bit though I slowly realised why things looked so blurry. It's not so much the camera, it's the actual screen. The 320×480 pixel screen seems to struggle somewhat with the 3 megapixel image being fed into it. You can see a similar thing when scrolling through the menus and moving past icons. It seems that the refresh rate is a little too high for the screen to handle. It's not a terrible side-effect, it's just that things can go a bit blurry.
When you do take a shot, remember to hold the phone still and ensure you've got loads of light (there's no flash). After that, take time to zoom into the photo, then you'll see that the photo isn't as blurry as it first looks.
As usual we've got our video overview ..
Overall, the Explorer is a great start for people looking to buy a new phone, "smart" or not. You can download apps from the Android Market and heck, that CPU doesn't really impact performance much at all. I'm a little puzzled how it fits into the HTC catalogue – after all the Wildfire S is still a very good handset and a great starting point for those who just want to take a paddle in the smartphone world, but still, it's a great handset that won't cost the earth.
With smartphones rapidly becoming "normal" phones there's many manufacturers who are trying to make their devices more appealing to users who aren't your average "smartphone buyers". This device, which packs the high-end specs like GPS, WiFi, microSD expansion, FM radio and compass. The 1230 mAh battery coped pretty well and, despite a few gripes about the screen, I found this to be a great phone, not just a smartphone.
Link – HTC Explorer Deals