First of all thanks to the guys from Mugen for sending us this battery to review. It came all the way from Hong Kong I was amazed. My experience of spare batteries for phones has basically been buying a replacement when the original started to misbehave. Within a few months that one would start to misbehave and then it was about time to get a new phone anyway. Then the cycle starts again.
Extended batteries have been around for a while now. In the days of iPaqs you could buy a spare battery that was several times the size of the original and it would come with a new back cover for the phone. Well jump forward to 2012 and that's what we have these days.
When I first saw the battery and the instructions I was a little daunted. I basically had to repeatedly perform a ten hour uninterrupted charge and total discharge of the new battery before it would be at it's optimum level. I had to do this four times. After each charge and discharge I was realising that the amount of time the battery was lasting was astounding.
Let me talk you through a usual battery discharging of my Samsung Galaxy S2. This is the normal battery by the way. I get up stupidly early, check emails, check Twitter, walk dogs, take some photos of amusing things I find on the walk, check emails, check Twitter, get to work, check emails, check Twitter, make some calls, hide in the toilet for a bit playing Reckless Racing, check Twitter, take some pictures of my breakfast, make some calls, send some texts, check Twitter, browse the web a bit, check Twitter, post some news here using the WordPress app, correct my various spelling mistakes in previous article using the WordPress app, check Twitter, check the comments on the article, browse the web looking for more news to post for you guys, have lunch and make some calls, glance at the battery gauge "oh dear". By this point the standard battery on the Galaxy S2 is usually down to about 10-15% and I have at least another 5 hours at work plus another 5 hours at home. So out comes the charger. Needless to say my usage is heavy. In this day and age if you have some slightly dodgy widget installed you can lose an hour of life. So I wondered quite how I could show you how much longer the battery lasted. You can find no end of stats about how long playing videos or music these things last for. So instead I thought I would just use the thing and take a screenshot when the battery was pretty much dead. Below are two screenshots of a normal day using the normal battery.
Using the Mugen extended battery I was amazed I could actually get through an entire day and still have some charge left when I got home. At the weekend I could easily make two days without needing charging. It really gave my Galaxy S2 a new lease of life. Over Christmas I got over 48 hours out of the battery. This was with the phone totally turned off overnight. So it lasted for three days without needing charging. It really was amazing.
Here are some of the battery stats from the extended battery.
These shots above were from one of the first few days of use after the intensive training period. Half three in the afternoon with 61% left. Amazing stuff.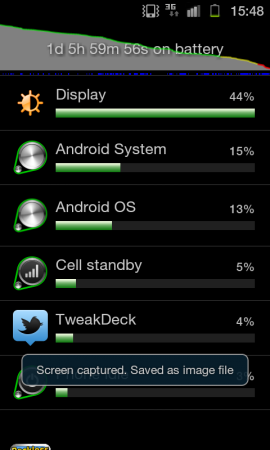 This one above from the same cycle when it finally died. It will have been turned off twice to sleep. Pretty impressive still.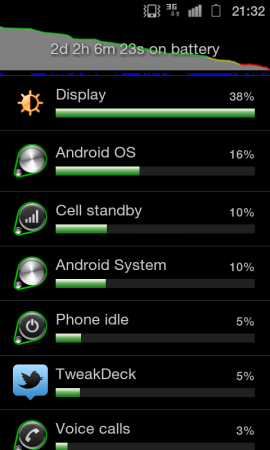 This was over christmas were I would say it was medium usage. Again turned off at night. It covered best part of four days.
Back at work this time (hence the games). Again this will have covered two days.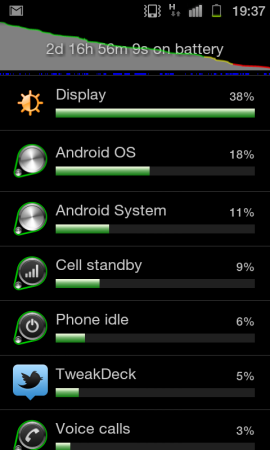 This was over New Year so again only light to medium usage. 64 hours off one charge. Again with several nights turned off. At this point I started to see quite what this battery was capable of. For the average user with light usage you could easily get several days out of the battery.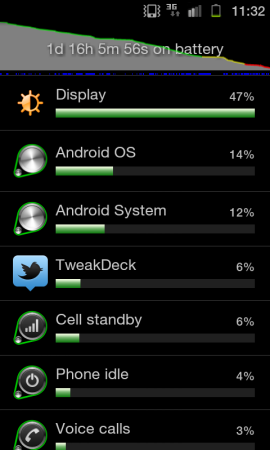 Back at work. This will have been two days before it needed charging.
So I think that's enough screenshots for today. Yes the battery massively extends your phones life. But what will it make your phone look like? Especially with a phone like the Samsung Galaxy S2 where it one of thinnest and nicest looking phones around. Mugen supply a seperate back panel with the battery, which is pretty sturdy and makes the phone feel a little more substantial. It may not be for everyone but for me the gains in battery life more than outweigh a chunkier looking phone. I just need to get a back panel in white now.
Here are a few shots of the Galaxy S2 and the back panel.
If you want to buy one of these you can go to the usual places such as Amazon, MobileFun, Ebay or actually from Mugen themselves. In fact they have promotions on their facebook page for discounts. The product page for the battery can be found here on Mugen's site and for further reference here is the SKU: [HLI-Si9100XL].
In conclusion I would say that if you spent most of the day on the go, making calls, emailing people, watching videos, listening to music and you really don't like the battery life on your Galaxy S2 then this is for you. I soon got used to the extra size of the case. The huge extra capacity more than countered it.