Last week we had the initial impressions post about the Viewpad 10e, I was quite impressed with Viewpad it surprised me with what I could do with a device that didn't have Google apps. The Viewpad is a budget tablet at £200 and is available from places like Argos. It is aimed at normal people who don't want or even know what the difference between Gingerbread, Honeycomb and Ice Cream Sandwich. It is aimed at someone who wants to browse the web, play a few games, read books, send some emails, generally not be using a laptop and someone who definitely doesn't want to spend that much money.
Well I've had it a week now and thought we should get out the full review.
Hardware
Once again here is the spec.
1Ghz Cortex A8 Processor
Android 2.3 (Gingerbread)
9.7" IPS LCD 1024 x 768
XGA Brightness 400 cd/m2
Ram DDR3 512 MB
Internal Memory 4GB
Wi-Fi 802.11 b/g/n
BlueTooth 3.0 and 2.1 + EDR compatibility
External Memory Micro SD card slot
I/O Interface Micro USB
Mini-HDMI
3.5mm headset audio jack
Audio Stereo speakers
G-sensor
Front facing camera 1.3 MP
Battery Li-Polymer 5400mAh
Dimensions 241.6 x 188.6 x 9.1 mm
Weight 620 grams
The Viewpad 10e is a mix of metal, plastic and the screen. The screen is a nice ips 9.7″ lcd screen. It is plenty bright enough and has some decent viewing angles. You can hold it any way and still be able to read or see the screen clearly.
The metal and plastic mix on the back panel is a little strange. They have put a 1″ plastic strip down one side of the back panel, which I assume is to allow the various radios to get a signal instead of being blocked by a sheet of metal. The rest of the back panel is a matte black metal finish which is nice, it makes the device feel more solid as it is quite thin. If the whole thing was made of plastic it would feel flimsy. So the metal is a good thing. Speaking of how thin it is at 9.1 mm it really does feel nice and not too heavy. You could easily pop this in a bag and not notice too much difference.
The Viewpad also has a selection of buttons, switches and connectors. We have a mini-hdmi out which is great for showing pictures on the big screen, an micro sdhc card slot which is great to put music and films on, a headphone socket, charging socket, micro usb slot, a reset hole, microphone, front facing camera, volume rocker and the power SWITCH yes I said switch, which at first was a little annoying, but now I have set the "screen on" time a little higher I only really use the switch for turning it on or off.
The Viewpad has 3 capacative buttons beneath the screen which are quite useful. Especially as Ginerbread doesn't have onscreen controls. Although saying that though Viewsonic have added home, back and menu buttons to the status bar. Although some games go full screen and you can't get at these, making the screen buttons on the bezel ideal.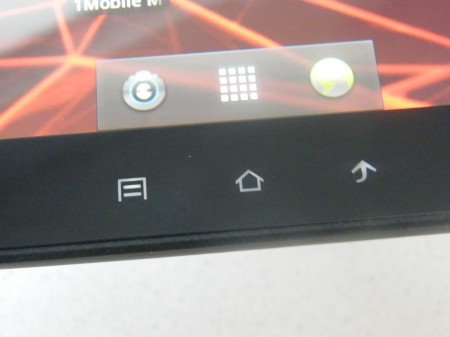 The camera is a basic affair, allowing you to Skype, video talk or take pictures of your own face. The microphone on the side makes video calling quite easy.
One thing that surprised me with the Viewpad was the built in memory, normally in a budget device they try and wedge the rom and app storage onto a 512mb to save money. The Viewpad has a 4gb chip shared between the Rom and app storage space. Meaning you get plenty of space to store large games etc. Although I would get a large memory card if you were going to watch films or listen to music on it. As it is Gingerbread also you can transfer a part of the app to the memory card using the built in function.
Software
Out of the box you may be a little bewildered. Fear not though the A1 Market is coming to the rescue. It has a decent selection of the latest apps and games. Imagine my surprise when I came across the following apps Gmail, Google maps, Google earth and YouTube. Once I had added my Google details I could even then install Google Music. All I couldn't find was a contacts app. The built in calendar also recognised my Google details once I added add them to the Gmail app. I was pretty much set now. For most people this would be enough.
To get the most out of the Viewpad you would ideally install a few replacement markets such as GetJar and pick and choose from various selections of apps they had.
Games such as Angry Birds play as you would expect with no lag, intense driving games suffer from a slightly over sensitive gyroscope. But you soon adapt to it.
Music through the speakers is a little lacking in depth but which phone or tablets speakers aren't? For listening to the radio they are perfectly acceptable. Streaming music wasn't a problem either, using either Tunein Radio and Google Music both performed admirably. Although getting Google Music to work is dependant on having the Gmail app installed from the A1 Market.
Video playback wasn't an issue either, the Viewpad handled the hd streams from YouTube well and played a variety of dvd rips I tried out. It also handled a 720p sample clip as well, with no stutter.
Book reading is also good on the Viewpad, it has the Kindle app built in so purchasing books is a doddle. The size, weight and clarity of the screen, on the Viewpad make it an ideal device for reading books and magazines.
Web browsing is quite nice on the Viewpad, the 4:3 ratio of the screen makes browsing the web easier. Less scrolling around the web is needed. Sometimes browsing the web on 16:9 screen can be a little annoying.
One thing that does make the Viewpad stand out though is the inclusion of a replacement launcher. It is called Viewscene 3d and it is basically spb shell 3d. It is a great launcher that we reviewed a while back which you can find here. It allows you to use several panels display the weather, shortcuts to app, widgets or a big fancy 3d carousel. If you have to many screens loaded up with too much info you will experience a little lag, which is to be expected.
Conclusion
Overall for the money the Viewpad is a great device. The screen alone puts the Viewpad ahead of its competitors. You just need to think what you will really do with a tablet like this. Watch videos, listen to music, read books, play games, browse the web and possibly video call people. All of that is achievable with the Viewpad. It would make an ideal cheap tablet to take on holiday, loaded up with films, books, music and games.
Yes some people may get annoyed by the lack of Android Market but I think the for the money and the target market, the offered replacement is perfectly adequate. A Google contacts compatible app would be nice though.
Yes some people will also complain about the Viewpad only running Gingerbread, yes Honeycomb and Ice Cream Sandwich certainly make the whole tablet experience better you can still have a lot of fun with the Viewpad.