Smartphone sales grew by 62% in 2011 according to a recent report from Canalys with over 70 million more Smartphones being shipped than traditional PC/Laptop technology.
The report indicates a staggering 488 million devices were shipped during the calendar year of 2011, compared to 415 million units of Desktop PCs, Tablet PCs, and any other kind of netbook, ultrabook or laptop you can imagine. This figure further highlights the sea change in the way that we, as users, consume our media. PC's are no longer the defacto standard it seems, with many preferring to use larger footprint mobile devices ahead of traditional technology, for common applications.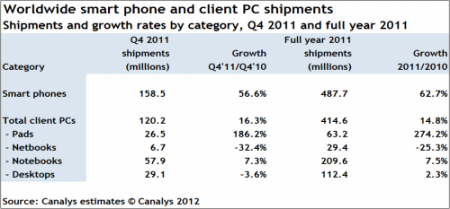 Chris Jones, Vice President at Canalys and Principal Analyst, clearly believes the shift is consumer led, with decreasing price of mobile technology being a contributory factor.
"Smart phone shipments overtaking those of client PCs should be seen as a significant milestone. In the space of a few years, smart phones have grown from being a niche product segment at the high-end of the mobile phone market to becoming a truly mass-market proposition. The greater availability of smart phones at lower price points has helped tremendously, but there has been a driving trend of increasing consumer appetite for Internet browsing, content consumption and engaging with apps and services on mobile devices." – Chris Jones, Canalys VP
Furthermore, it seems Android can still boast the lions share of device shipments during 2011 with over 237 million units being dispatched. However Apple still rules the roost in terms of closed-OS shipments with iOS moving an impressive 93 million units during 2011.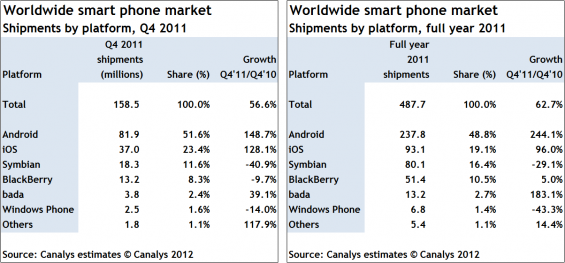 With tablet machines becoming more and more common, Nokia and their Lumia line of devices gathering pace, new Android devices, and no doubt more from Apple and RIM, don't expect the trend to alter significantly any time soon.
Links: Canalys