Hauppauge have announced a new Mobile TV Streaming solution which you get to carry around to beam live TV to your iPad, iPhone or iPod Touch. It's just a matter of extending the antenna and then you connect your device to the "myTV 2GO" WiFi network. The free app then lets you watch the digital (freeview) transmissions.
Costing £119 there's no subscription, no data and no additional costs. It basically just turns your phone into a TV screen. Boom.
The magical box should give you around three and a half hours of battery life and promises a good picture quality even in remote locations.
Hauppauge tell us that an Android version of the app is planned, but as yet there's no ETA.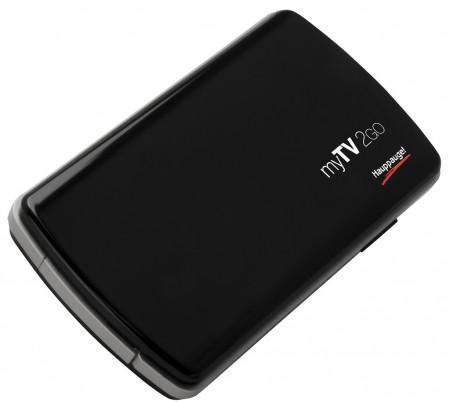 myTV 2GO – Hauppauge's Compact Mobile TV Streaming Solution delivers Freeview TV on your mobile device

Watch and record Freeview TV wirelessly on-the-go on your iPad, iPhone, iPod Touch, Mac or PC, subscription free with no data plan usage

London, 02 February 2012 – Hauppauge Digital Inc, the leading developer of digital TV receiver products for the personal computer market, are proud to launch their latest portable TV tuner, the myTV 2GO. myTV 2GO is a portable wireless Freeview TV tuner which transmits live television directly to your iPad, iPhone, iPod touch, PC and Mac, requiring no cables or adapters. Simply turn on the myTV 2GO device, extend the built-in Antenna, connect to the myTV 2GO Wi-Fi network, download the free App from the App store and start to watch and record high-quality digital TV from anywhere with a DVB-T (Freeview) reception. myTV 2GO will be available in the UK in Q1 for an SRP of £119 inc VAT. myTV 2GO is subscription free, and does not use up your mobile data plan.

Completely Wireless

myTV 2GO is designed for mobile use. It streams live TV to your iPad, iPhone, iPod touch, PC and Mac through its built-in 802.11b/g Wi-Fi. Designed with ease of use and portability in mind, the small form factor and easy installation of the myTV 2GO make it the perfect solution to watch mobile TV, wherever you are. By following the quick and simple instructions, you are ready to enjoy live TV and follow all your favourite TV show, news or sports at all times.

Hauppauge's myTV 2GO features up to 3.5 hours battery life and comes equipped with the latest state-of-the-art chip technology to offer quick channel changes, crystal-clear images and high reception quality even in remote locations.

MyTV 2GO Key Features

· Watch and record live Freeview TV on your iPad, iPhone, iPod Touch, Mac and PC from anywhere
· Lightweight 70 grams and portable
· Extendable antenna
· Charges via USB for up to 3.5 hrs of usage
· Works with free app*

MyTV 2GO Specifications

· Signal:
DTT (VHF and UHF)
Retractable Antenna

· Wi-Fi:
802.11b/g, internal antenna

· CPU:
Powerful integrated ARM 9 RISC processor

· Audio:
MPEG-1 Layer II audio

MyTV 2GO Package Includes

· myTV 2GO DVB-T Freeview TV tuner with integrated antenna
· Removable Li-lon battery
· Mini-USB cable for charging
· MAC and PC TV viewing and recording CD
· Quick start guide