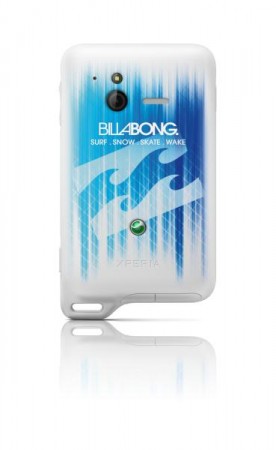 Sony and Billabong have announced a new partnership, starting with a Billabong special edition of Sony's Xperia Active phone, featuring "wet finger tracking", and enhanced dust and water resistance.
Other spoils of this union include a Billabong LIVE app in the Android Market, exclusive wallpapers and videos, and a Billabong Surfing game for the Xperia Play.
No details of when the phone will be available yet.
Link – Billabong LIVE app
Link – Sony Xperia Active

Press Release
Sony Ericsson today announced an expanded global strategic alliance with Billabong,  a brand that promotes an authentic lifestyle and the true values of core boardsports (surfing, snowboarding, skateboarding and  wakeboarding),  which connects the Xperia smartphone brand to a new and highly influential consumer audience and extends to a retail offering for smartphone users. At the center of the partnership is the XperiaTM active Billabong Edition smartphones designed with extreme sports enthusiasts in mind.

 

"Billabong brings a new, enthusiastic and engaging audience who are early technology adopters and influencers in the areas of sports and technology,"said Stephan Croix, VP Head of Global Marketing Creation for Sony Ericsson. "This partnership is a perfect fit with our brand and the XperiaTM range of smartphones."

 

The XperiaTM active Billabong edition is an  ideal smartphone for extreme sports enthusiasts who can capture all of the excitement up close and personal.  This tough, scratch-resistant smartphone is packed with technologies such as wet finger tracking and has received some of the highest marks in dustproof and water resistance categories (IP67).  Click here for more information on the Xperia active.

 

"The partnership is an expansion of our long term relationship with Sony and an extention of an Asia Pacific alliance developed with Sony Ericsson in 2011," said Scott Wallace, Billabong's International VP of Strategic Partnerships & New Media. "Our customers are very tech savvy and their top interests include music, photography, social media and, of course, action sports. Each of these interests can be captured or experienced through the XperiaTM active and we are working on some exciting apps and accessories that should add to the user's experience. The first to benefit will be the athletes at our major international events who will be testing the XperiaTM active device in conditions as diverse as the snowfields in Austria, surfing the big waves of Tahiti and even skateboarding in Singapore."

 

The partnership extends beyond the XperiaTM active as Sony Ericsson and Billabong have also co-created exclusive content for additional XperiaTM devices. The XperiaTM active Billabong Edition will feature preloaded Billabong screenscavers, videos and Billabong LIVE, a mobile app now available in the Sony Ericsson channel in Android Market, and the Xperia TM PLAY will boast an exclusive surf game, Billabong Surf Trip.