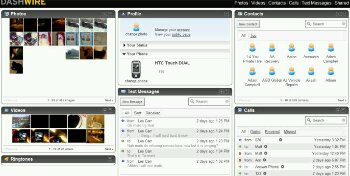 If you had a Windows Mobile phone a few years back then you may well have seen or used Dashwire. It basically plonked your pictures, videos, texts and contacts onto an online portal for you to access. It was great, but time has moved on and many phone manufacturers are now offering it with their handsets or you can download apps to do it yourself.
On February 15th Dashwire will be flicking the off-switch for those Windows Mobile users, so login to your account now to grab your data. I've just done it and… Wow… It's like stepping into a time machine. Everything from April 2008 (when I wrote this story) is on there. Pictures of my son being born (he's four in March!) and text messages from people who have sadly passed away. A very strange feeling.
I've not found a quick way of downloading all this data though. Let me know if you've got a way of doing it. HTC bought Dashwire last August and use the technology in the htcsense.com website.
Here is the email I received today…
Thank you for being a Dashwire customer during our early years of providing service to Windows Mobile devices. You were an early adopter, helping to usher in the market wave of cloud services.

Several years ago, we transitioned away from actively investing in the Dashwire solution, and instead refocused our efforts on launching products and services with some of the biggest providers in the mobile industry. The Dashwire solution remained running, and some of you have continued to use the service.

Today we are announcing that we will finally be shutting down the Dashwire service effective February 15, 2012. In the event you want to visit the site and download any of your old media items that were uploaded from your phone, please visit the site by February 15th. We will be shutting down the servers, and erasing all user data.

https://dashwire.com/
Link – Original article – Dashwire.com