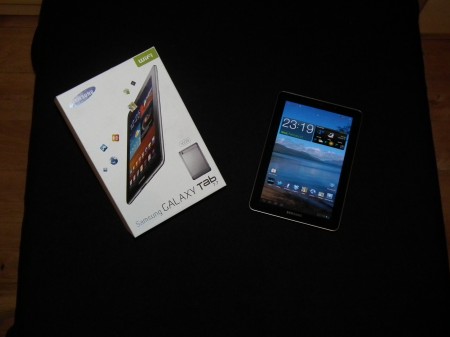 Here is a quick question for you how do you make of the most successful Android Tabs in the sub ten-inch category even better?
Well the answer is an obvious one. You put it on a diet send it for a lobotomy and then take it back to Android finishing school to learn about the new treats that the OS has on offer. Then after being very patient and also warding of those pesky Apple flies (no offense intended) here it is the new Samsung Galaxy Tab 7.7 and boy was it worth the wait.
Now I have traditionally been an iPad user and as far as I was concerned Android had not got its tablet OS up to speed yet so I had not been very concerned with looking over the fence to see what was there. The Tab 7.7 was released and I have to say it looked so visually stunning that I wanted to see one in the flesh, in fact I would almost go as far as saying I craved to see it. The great guys at Handtec have subsided my craving by very generously providing me with a review unit. Now that I have had a chance to get hands on on I feel like cheating on my long loved iPad 2.
Why I hear you ask, well read on to find out, first though here is my un-boxing video.
[yframe url='http://www.youtube.com/watch?v=5keODnNg8sg']
Hardware
As soon as you open the box of this tablet you cannot help but be taken in by its beauty as the large 1280×800 7.7 " screen stares out intently at you. This front panel of glass is as you would expect for a Honeycomb tab unspoiled by buttons of any kind. It does however have a speaker grill at the top for video calling etc (the 3g version this is for when you are using voice calls). On the top all we have is a 3.5mm headphone jack and a pinhole mic. At the bottom we have what look to be stereo speakers but in actuality it seems that these are just two ports for the one speaker which is a shame although the audio is as expected from a tablet. On the right we have a power and screen sleep/wake button and our volume controls. These are nice buttons but can be fiddly to find sometimes. Lastly on the left we have the Micro SD card slot hidden behind a door, which will support up to 32gb and makes this the first in the new Tab family to support expandable memory.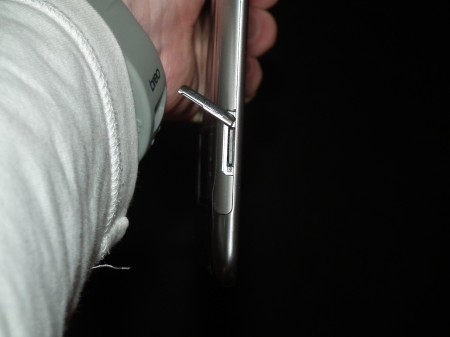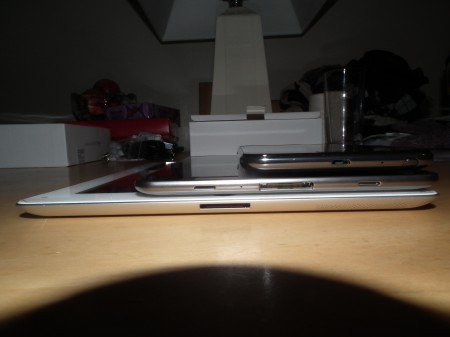 The power behind this stunning tablet is given by a 1.4ghz Dual Core Exynos processor powered by a Mali GPU. this provide a smooth and fault free operation of the tablet for the most time i will come back to this later in the software section.
As for connectivity which will be at the forefront of most users mind the 7.7 is very well equipped on that front supporting 802.11 A,B,G,N wifi protocols and supporting wifi bonding which promises enhanced wifi signal. It also supports Bluetooth 3.0 to connect to peripherals. There is a GPS chip embedded which is a nice touch as it allows you to use the device as a Sat Nav with the purchase of some propietry software such as Co-Pilot live (unfortunately Google Maps requires a constant data connection to work). Samsung have even anticipated this and have made a car dock for it. For your music you are provided with a standard 3.5mm jack which supports most headphones with in line remotes. I have tested this with Beats Solo's. Last but by no means least we have the dock connector which is to all essential purpose the same as on the iPad's but it will not accept any of the accessories for that device which is a huge shame, although you can get various adapters for this to work as add ons.
The one adapter that I would say is worth the extra investment would be the MHL breakout to allow you to connect the tablet to a HDMI capable TV. This is a great way to display the content to a larger audience. Along with all of this Samsung have also included both AllShare and Wifi Direct. First AllShare allows you to stream content to your compatible Smart TV it will also allow you use your Tablet as remote for the Smart TV over the Wifi connection. Wifi Direct is really like a much ramped up version of Bluetooth for file transfer allowing the transfer of files at an increased rate. The AllShare software is visible in all of Samsung's media apps and will through your content onto the Smart TV when it is range. Essentially it is using the DNLA to do this and all Sammy have done is made it a bit more user friendly. (I have not been able to test this feature as I do not own a Smart TV although I would be happy to test one….)
Software
As with all of Samsung's tablet range this comes equipped with Android installed but in a leap of improvement over the previous generation of device, we are presented with Honeycomb 3.2 as a gooey base for the OS. I have to admit that before this review I have not been a huge fan of 3.2 as I felt that it was lacking far to much functionality and it was slow and buggy. I mostly put this down to my previous experience of using a Xoom on which 3.x came to fruition way back at CES 2011. This is why I was so blinded by the iPad with iOS5 as it all just works smoothly and fluidly. After using it on the 7.7 I can in all honestly say that I have been impressed and I have wanted to delve deeper into what it can offer me as an end user. For this to have happened there has needed to be some dark magic applied to 3.x and this has been done with the current iteration of software 3.2. It feels much smoother and better to use. It is because of this that I enjoyed using it so much more that and the fact that it is powered by the awesome Exynos CPU. Although it is not only raw CPU speed that is working here the integrated Mali GPU also has got a part to play which it does in so much style it would make the bard proud.
[yframe url='http://www.youtube.com/watch?v=wt7wnbtIiPA']
With all this beauty there is the always present antipode and in this case for this reviewer anyway this is Touchwiz 4.0. Now I will be the first to admit I can see why it would benefit users that are new to the Android experience and the Tablet game but I do feel that it should be something that is not forced upon the user as is the case on this device. If it feels that I am having a dig at Samsung here then it is not my main intention to do so as their are many guilty culprits here. I just would love if instead of forcing this UI onto those who don't want it then can we not make it an option to either have it on or off. For those that will inevitably post useful comments below stating why do I not just root and get rid of it or install another Launcher, whilst these are valid points it does not resolve what I believe is a fundamental issue with all OEM's at the moment. Why should I have to invalidate my warranty to get my Tablet/Phone as I want it instead of what someone in a design studio has thought that I want/need. Sorry for the rant but it really grinds my gears.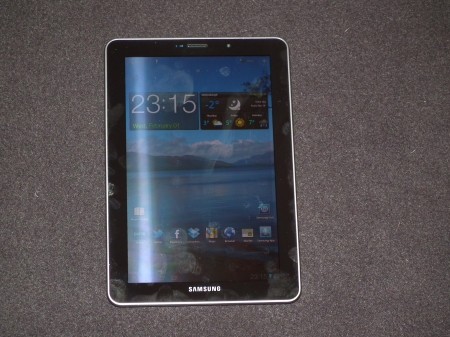 Moving on there are actually some feature that Samsung have added here, one of these is the Calendar customization which I do use every day in the form of the Agenda widget it is very helpful and shows me what I need in a quick and easy to digest manner. I could go into detail about how the Honeycomb software works but I do not intend to write War and Peace so wont. If you want to find out more then here is an informative article for you to check out this article Engadget Honeycomb Review
Camera
As you may be aware dear reader the current crop of Honeycomb specs tablet do not really deliver on the Camera front (excluding the Transformer Prime) and the 7.7 fails to disappoint your preconceived notion of this. However it is there and that is what really matters it has a 3mp camera