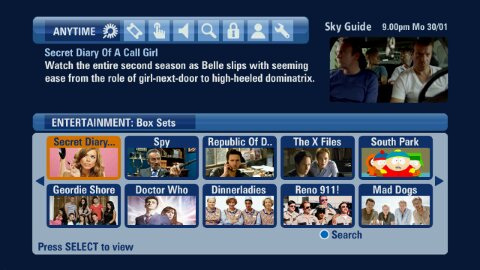 I've followed the developments of mobile products at Sky for some time now but, at home, I'm unable to use the Sky "Anytime+" service. This service let's you watch on-demand programming at a time suitable to yourself, but it's only available to those taking the Sky Broadband package too.
After hooking your Sky router into your Sky+ HD box you can download and watch content from the comfort of your own chair. However, many of us have fibre connections or are shackled into broadband contracts from other providers. If you're in this club, there's no on-demand TV for you.
However, that looks set to change following this annoucement from Sky. They're opening the gates to other broadband customers, meaning that you'll be able to watch on-demand TV no matter who your provider is. There's pros and cons here, and many customers having cheap "low use" broadband packages may soon find their virtual buckets overflowing after downloading the latest episode of "House", however if you're aware of this then it's fantastic news.
The Press Release below doesn't mention an exact date but Sky tell us that "all Sky+ HD homes" will be able to enjoy Sky Anytime+ no later than Easter, which is at the very beginning of April.
Not only that, but later this year Sky+ HD customers will get access to BBC iPlayer and ITV Player via their boxes too.
Link – Sky Press Release
Sky Anytime+ goes from strength to strength with more content and increased reach BBC iPlayer and ITV Player to join the service.

Sky Anytime + available to more than 5 million homes at no extra cost by Easter 2012.

Sky has today announced a series of enhancements to its video on demand service, Sky Anytime + , which will expand the choice of programmes available for customers and make it available to millions of homes for the first time. The move follows strong growth for Sky Anytime + , which is already in more than a million Sky homes and has seen weekly usage increase by 80% in the three months to 31 December 2011.

The enhancements form part of Sky's commitment to bring more value to customers through their subscription. Sky Anytime + comes at no extra charge and already provides access to a wide range of on-demand content including movies, entertainment, documentaries and drama 'box sets'. In addition to programmes from Sky's own channels, it offers access to content from partner channels such as MTV, Discovery, FX, History, Disney, UK TV and National Geographic Channel.

To expand the range of high-quality content available on Sky Anytime + , Sky has reached new agreements with the BBC and ITV.

This means that ITV archive content, including popular shows such as Prime Suspect, Lewis and Cold Feet, will join the service from tomorrow, accessible through the main Sky Anytime + menu as well as a new dedicated ITV Player section. And later this year, customers will be able to use Sky Anytime + to catch up on programmes from both the BBC and ITV when the BBC iPlayer joins the service and more programming is added to ITV Player.

Archive BBC content – including the likes of Doctor Who, Outnumbered and Top Gear – is already available on Sky Anytime + through Sky's existing deal with UK TV.

And to help even more customers enjoy the service, Sky is extending the reach of Sky Anytime +

by making it available to all Sky + HD homes with an internet connection, across all broadband providers. This means more than 5 million homes will soon be able to access the comprehensive video on demand service. The extension of the service builds on the 1.2 million Sky Broadband homes that already use the service.

Jeremy Darroch, Sky's Chief Executive, comments: "We want customers to get the best out of their Sky subscription and Anytime + is a great way to give them more control and choice over how they enjoy TV. We already know how popular Sky + is and how it puts customers back in charge of their TV viewing. Anytime + builds on that control and it's no wonder we've seen such strong demand for it.

"Sky Anytime + will go from strength to strength in 2012 and we are delighted that the addition of the BBC iPlayer and ITV Player will allow customers to also enjoy the best of terrestrial TV, whenever they want. We're also delighted to be able to widen access to the service so that millions more Sky customers can enjoy the added flexibility it offers."

For more information: www.sky.com/anytimeplus