A team of developers over at XDA Developers have recently started work on a project called Skydroid. In the past these guys worked on a Windows Phone 7 for Android project.
XDA user TheRedDrake says that "we are making an entire UI based on w8 metro look which will be available for phones and tablets. Unlike wp7a this will not be a UI copy, it will be just inspired by it"
They plan to create a Windows 8 style launcher and a range of Windows 8 style apps to go with it. The list of apps they plan to create are as follows.
1)Dialer
2)SMS
3)Email
4)Calendar
5)People with IM and social
6)Calculator
7)Player
8)Gallery
9)Camera
10)Browser
11)Notes,
12)Stock + Currency converter
13)Meteo
14)Alarm
15)News
16)File manager
17)Settings
18)Launcher
This all sounds great so far, in the past I have used and written about apps for Android that recreate the look of other OS's so this should be an interesting one. This is the thing about Android that I love, you can choose whatever style or look you want for your phone or tablet. Projects like this really enable your to create a nice simple uncluttered look for your device. I will certainly be keeping my eyes on this though.
Unfortunately there are no screenshots or anything like that yet. I will get in touch with them and see if they can send me any shots. Which I'll post in due course. The only image released so far is below.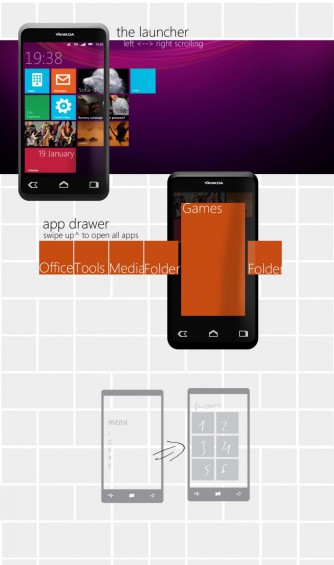 Source – XDA