EDF have decided that a trip in the London Eye to see the sites of London isn't enough.
They have introduced a new "interactive guide" which allows you to access information about the sites you can see from in the Pod during your rotation.
The highly functional interactive guide enables guests to access key information about the landmarks they can see; all customers need to do is touch the landmark on the screen that they're interested in or search the name of the landmark to find it. By doing this they can access key information about 44 famous London landmarks, 24 hour time-lapse photography, 360 degree day and night views from the London Eye and  bird's eye views of some of the key landmarks as well as a unique "look inside" some of the structures for a unique perspective.
As this is a Technology blog we've made a point of posting an article about this not only because it is cool but the hardware is made my Samsung. It's Galaxy Tab 10.1's to be precise.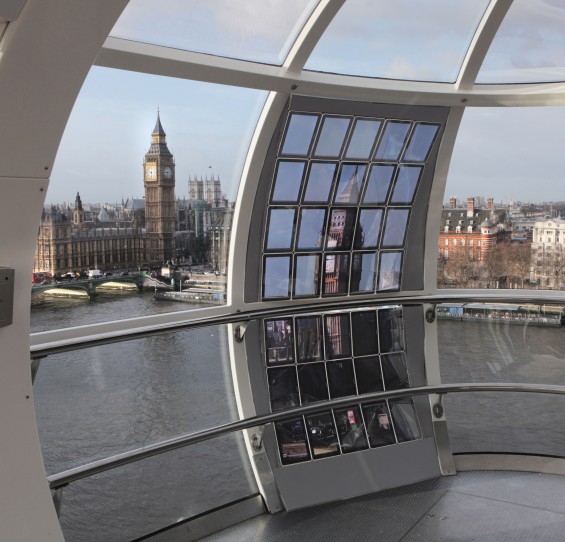 Although the image shows a fancy looking stack of devices, this is a little misleading as there is to be 6 individual devices spread out around the edge of the pods.
David Sharpe Divisional Director (London) for the Merlin Entertainments Group commented: "2012 is going to be a year of celebration throughout London and the UK. We wanted to kick off the year by presenting both our new and loyal guests with a state-of-the-art and exciting experience on the EDF Energy London Eye. I've worked at the London Eye for 10 years now, enjoying countless rotations and I can assure our guests that the new interactive touch screens provide a fresh view of the capital. We're thrilled to be offering our guests this innovative addition and hope that all those who visit us in this Olympic year enjoy the benefits that the guides bring to their experience.

Andy Griffiths, Managing Director, Samsung UK and Ireland said: "We're delighted to be able to enhance the experience of London tourists and residents when they visit one of the Capital's best known landmarks. The Galaxy Tablet is the perfect device for giving you all the information you need at your fingertips and its innovative screen technology will ensure that everybody visiting the EDF London Eye has the opportunity to see the capital city in a new and enriching way.
To book a visit to the attraction and save yourself 10% you can visit www.londoneye.com or call the booking line 0871 781 3000. You can also follow the London Eye twitter.com/thelondoneye to keep up with updates and offers.
Will it make a difference, is it worth the bother? Let us know your thoughts in the comments below.
Source: Pocket-lint