I didn't really consider changing my tablet anytime soon, as I was quite happy with Archos 80 G9 which I got in October. But there was that ridiculous Christmas clearance of the HTC Flyer tablet at DSG stores (PCWorld, Dixons and Currys) here in the UK recently and … well, you know… it just happened by itself. 😉 When the clearance was pretty much over, I somehow managed to bag (in fact, my wife did) a WiFi-only unit, the very last one from the display in Dixons nearby. Phew!

So what makes the HTC Flyer so special? Firstly, the price. Reduced from >£300 to a mere £185 it's an unbeatable bargain. Secondly, the specs. It sports a 1.5 GHz CPU, 1GB RAM and 16GB of storage. This is a pretty nice upgrade from the 1GHz, 512MB and 8GB that my Archos had. Thirdly, the form factor. I thought that the 8-incher from Archos was a perfect size for a tablet, and I figured that the 7-inch from HTC couldn't be too far off.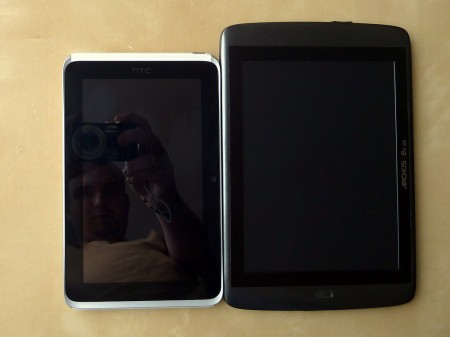 First impression – Once I've got the Flyer in hand – boy, it's small! Much smaller than anticipated. Perhaps one inch difference isn't that much but I reckon that it's the screen aspect ratio that actually makes that difference. The Flyer features a 16:9 widescreen, while the Archos has more of a classic 4:3 format (1024×600 vs. 1024×768 resolution-wise). I personally think 4:3 is better and a more natural format for tablets, hence the reason that the Flyer felt small and awkward at first. On the other hand, the display quality in the Flyer is superior to Archos – it is basically much brighter and the colours are move vivid.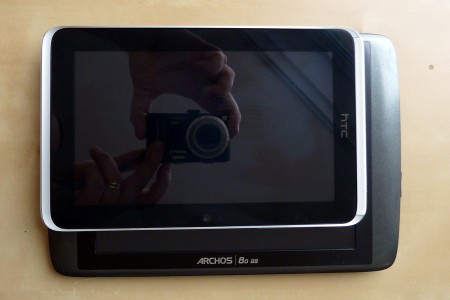 The Flyer definitely makes up for it's "small'ish" looks thanks to the build quality. It feels much more solid and robust than the somewhat cheap and plasticky Archos, although the Flyer is a bit thicker.


A rather unpleasant surprise was a proprietary connector instead of a the standard micro-USB slot for charging and data transfer. Considering that virtually every other HTC phone and device released in recent years is using micro-USB connector, the reason why they decided to use something completely different and annoy users in the Flyer is beyond me. I now need to carry around an extra cable – just in case if I needed to charge it up or transfer files quickly outside home. Bugger!
Actually, thanks to the comment below made by our reader, I've "discovered" that USB slot does actually take standard micro-USB cables too, so there are no extra cables to carry around after all. Phew! Thanks for pointing that out,  spuriousstarlight!

Where the Flyer really shines is overall performance. There's a substantially better CPU (although single-core) and the RAM makes a noticeable difference when using tablet for common tasks like web browsing, checking email, news feeds, switching apps etc. Basic UI operations feel much smoother too. Generally speaking, the Flyer provides a much better experience than Archos in terms of day-to-day usage and performance.
On the other hand, that overall UI fluidness doesn't quite translate to strong multimedia capabilities on the Flyer. It doesn't play AVI or MKV videos out of the box, while 3rd party video players supporting such formats struggle with fluid HD/FullHD playback too. This is an area where Archos particularly excels at, presumably thanks to its hardware decoders support, as it managed to play 1080p videos without a glitch when I was testing it. I also found the DLNA client much better and easier to use in Archos than in the Flyer. However, I'm not too bothered by these shortcomings that much, as I'm not doing any serious multimedia stuff on it anyway.
Software-wise, the Flyer came with Gingerbread originally, which I've quickly upgraded to Honeycomb. The HTC Sense bundled on top is something I personally dislike but, in some way I learned to live with it. Nonetheless, I liked the vanilla Honeycomb experience on Archos much much more.
In terms of Ice Cream Sandwich upgrade availability, HTC is obviously taking the piss out of its users and isn't bothering to announce any upgrade plans for the Flyer. I'm guessing they'll never do that, and the only hope of bringing ICS joy to the Flyer would lie in hands of the xda-developers magicians. Archos, on the other hand, has announced ICS upgrade schedule for 1Q12 back in December already. Shame on you, HTC!
Overall, I'm fairly happy with the switch to the Flyer. The main thing I'm most pleased about is massive gain in performance in day-to-day usage. I've got to like that widescreen form-factor eventually too – it is definitely much easier to hold in one hand in portrait mode which is a nice bonus while using tablet for reading. Major pain points are mostly software-related – the HTC Sense crapware and the uncertainty regarding a future ICS upgrade, which I'm hoping to work around with custom ROMs at some point. I'd never buy the Flyer for the full, non-discounted price, however considering I've paid even less than I've originally paid for Archos (£185 vs. £199+delivery) I can't really ask for more.