CES isn't just about shiny new phones, the latest tablets or stupidly thin ultrabooks. A lot of software is also announced, OnLive were at CES and they have announced a new direction their software is moving in.
OnLive started out as a gaming service where you could play the latest computer games over a remote desktop connection. This allowed people with fairly basic computers to play games that would need a pc with a much better spec. They then released a mini console to access this service and then they released an app for Android and iOS which allowed you to play console quality games on your tablet or phone.
They have now announced a new service that will allow you to connect to a virtual Windows desktop stored on the OnLive servers. At first you may think "so what", but this could really transform tablets from the media centric devices they are at the moment into something you could actually do some real work on.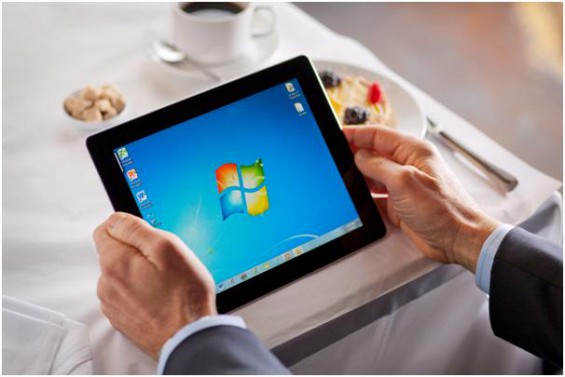 Imagine you had a 3g tablet with you and you needed to quickly knock up a powerpoint presentation, remotely connect to one of your own servers or just use a desktop grade piece of software. Using Android or iOS you could probably just about do it. By installing a load of third party apps and probably not quite looking like you wanted. Having a Windows tablet would be much easier. Unfortunately though Windows Tablets cost a lot more and the performance is usually poor. The new service from OnLive would let you connect to your desktop and work on it like a normal Windows PC.
"OnLive Desktop delivers a seamless Windows desktop experience, with instant response multi-touch gestures, together with a full on-screen Windows keyboard and handwriting recognition, enabling complete and convenient viewing and editing of even the most complex documents."
"Rich media, such as video, animation, slide transitions and even PC games, never before practical via remote desktop delivery, run fluidly and dynamically with instant-action interactivity. OnLive Desktop makes remote feel local."
The virtual desktop will have access to Word, Excel and Powerpoint and the free version will have 2gb of storage. A paid version will also be available with 50gb of storage for $9.99 per month.
At first the OnLive desktop will only be available on the iPad but they have said an Android version will come soon.
"iPad users will now be able to simply and securely view and edit cloud-hosted documents with full featured Windows desktop applications like Microsoft Office, just as if they were using a local high-performance PC. Multi-touch gestures respond instantly and smoothly, while HD videos, animations and PC video games—never before usable on a remote desktop—play seamlessly."
I have spoke to Dave from OnLiveFans and he said OnLive have mentioned that this service is rumoured to be coming to the OnLive console as well. If they do allow this service on the console you will be able to access a Windows Desktop easily on any screen or tv. Now that would be impressive.
Could you find a use for this? I certainly could. Let us know your thoughts on this.
Source – OnLiveFans