Asus UK have announced on Facebook that their original Transformer tablet will get an update to Ice Cream Sandwich at some point in the future.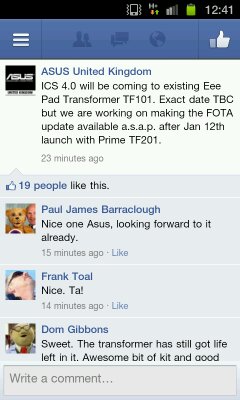 Don't you just love these announcements?
Hopefully the asap bit means only a few days after the Prime release. Which is meant to be the 12th and the Prime is meant to ship pre-updated.
It is good news for owners of the original Transformer as it's hardware is still up there with many of the current devices being released such as the new Xooms and the new Iconias.
So if you own a Transformer let us know if the update appears.