First of all it is really good. Secondly a bit of history for the Advent Vega.
When PC World released the Advent Vega a lot of people were excited about it. It had hardware very similar to the Motorola Xoom and it was much cheaper. Pretty soon after it was released custom ROMs such as the MoDaCo Custom ROM for the Vega started to appear. Fixing various bugs, fixing the huge status bar, making everything a whole lot nicer oh and how can I forget adding all of the Google apps so you could download apps from the Android Market. Shortly after this a port of CyanogenMod 7 appeared for the Vega which gave you some tablet tweaks and moved the status bar to the bottom.
The next huge step for the Advent Vega was that PC World started to drop the prices. In May 2011 you could get the Advent Vega for £199 which spurred on many people to get one. It was at this point that a fairly new Forum called Tabletroms had attracted a few developers to post their custom Roms there. This marked the beginning of the VegaComb ROM.
Vegacomb was a Honeycomb ROM for the Advent Vega that gave the Vega a proper tablet OS. Up until then the Vega had been running either Android 2.2 or Android 2.3 which were always rather stunted. Updates to Vegacomb came out every few weeks, up until a point where the device was pretty much perfect. They just couldn't really add anything more to the ROM I have had my Vega on this ROM for months now. With no problems, lots of demanding games run well on the Vega thanks to it's Tegra 2 chipset.
Then on New Years Day I spotted  a tweet from Cass67 announcing that Alpha 2 of VegaICS had been released. I had been wondering what Ice Cream Sandwich would be like on a tablet. As I had briefly tried it on a Nexus S and it was really smooth and quite intuitive. This new Rom would hopefully stop me from having to sell my Vega to partly fund the upcoming Asus Transformer Prime. So I downloaded it and read the release notes. It seemed that only the camera and the microphone did not work and that it was hardware accelerated. I was now excited. Hardware acceleration meant that they had coded the Rom to properly use the Tegra 2 GPU, which meant that it wouldn't be laggy and lots of games would work nicely.
I have took a few screenshots for you to see how it looks, sorry if it looks a little jumbled. I just added a load of widgets and shortcuts.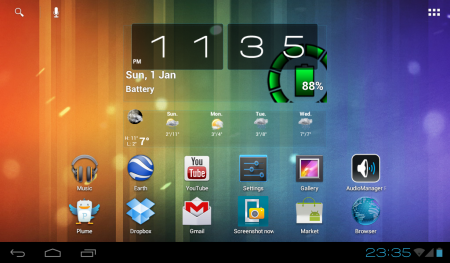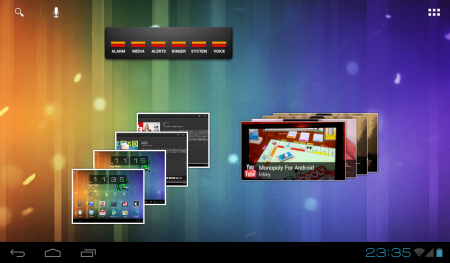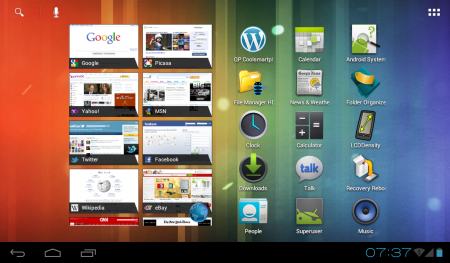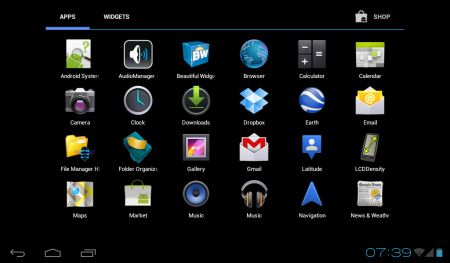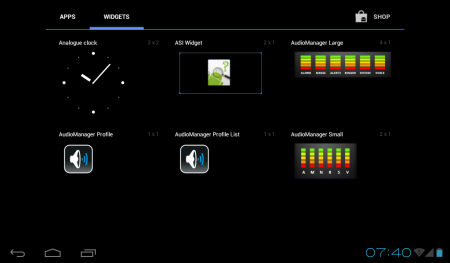 The Rom is how you would expect it to be. The various elements of Ice Cream Sandwich that you may have heard of are present. Such as the buttons on the Status bar, the shortcut / task manager button, the combined app and widget drawer. The only thing missing is the face unlock screen, as the camera doesn't yet work. Installing the Rom is a little tricky. You need your computer to recognise your Vega when it is in recovery mode. This is a state that the Vega goes into to allow you to totally rewrite the internal memory. I will not go into this here. Many of you no doubt know how to activate this or can use Google.
There are a few slight problems with VegaICS, I'll quickly cover them here. As you can the see the density of the screens is 160 so you get quite large icons and not much space for widgets. This can be changed though it just slows the whole thing down a little. Also your wifi SSID needs manually entering the first time you connect. Then every time you reboot you need to toggle wifi off and back on. Also you may want to set the display to not turn off. Mine tends to go to sleep and not wake up, needing another reboot.
Overall though I am amazed. They have took the basic source information released by Google and added it to what they already knew and made a Rom, a damn good Rom that on it's second alpha release is light years ahead of where it was when PC World initially released the Vega. I repeat, LIGHT YEARS. VegaComb was great but this is just astounding. We are told on a daily basis about manufacturers like Samsung and HTC that certain devices are too old and don't have enough space to fit the latest rom onto. Then something like this comes along and you are left wondering quite what the truth is. Can manufacturers like Samsung and HTC just not be bothered to MAKE it fit onto their older devices. Is it the cost of paying extra developers to MAKE it work. Or are they more bothered about their latest and greatest devices?
So if you are interested in trying this out head over to Tabletroms and download the NVFlash file.
One last thing IT IS YOUR OWN FAULT IF YOU BREAK YOUR VEGA. IF YOU ARE UNSURE WHAT YOU ARE DOING ASK AN ADULT FOR HELP