Over Christmas the last thing I want to do is read what is going on in the world. I like to eat, drink and buy stuff in the sales that I don't really need (HTC Flyer). Today I'm back at work and thought I'd round up various articles from over the festive period all in one nice and easy to read article. So here we go…
Sharp unveils the Aquos Phone IS14SH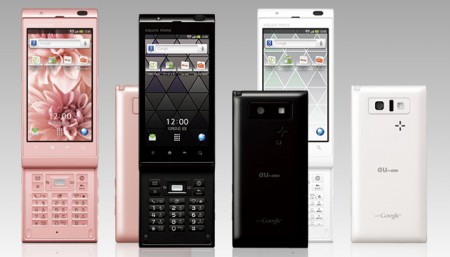 Sharp have introduced this phone and it looks a bit like the Sony Ericsson W995. What it is though is a qHD equipped Android feature phone. Some of the spec highlights are as follows. Size (W × H × D): About 56 × 117 × 14.7, Platform: Android ™ 2.3, Battery capacity: 1030mAh, Memory: (RAM / ROM) 512MB/4GB, Display: Approximately 3.7 inches, QHD (960 × 540), Camera: 8 million pixel, Wireless LAN:802.11b/g/n, Bluetooth: Bluetooth 3.0.
My first thought was thought when I saw this was "Is this the Android Phone for the masses?" Over the years a lot of slider phones have been sold to the general public. Will Sharp ever get this phone into Europe? Will HTC ever make something like this? Will Samsung resurrect some of their slider designs?
Source – Androidandme
Windows Phone MarketPlace passes 50,000 apps
The Windows Phone MarketPlace has passed 50,000 apps over Christmas. As usual there are lots of statistics to go with this statement. Most of which are pointless. One little graph did catch my eye though. The below graph shows the rate at which the most popular app markets reached 50,000 apps.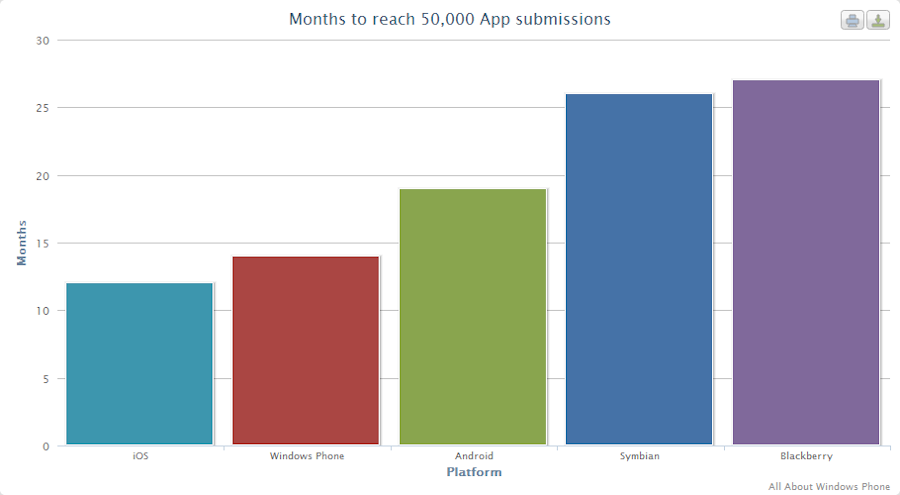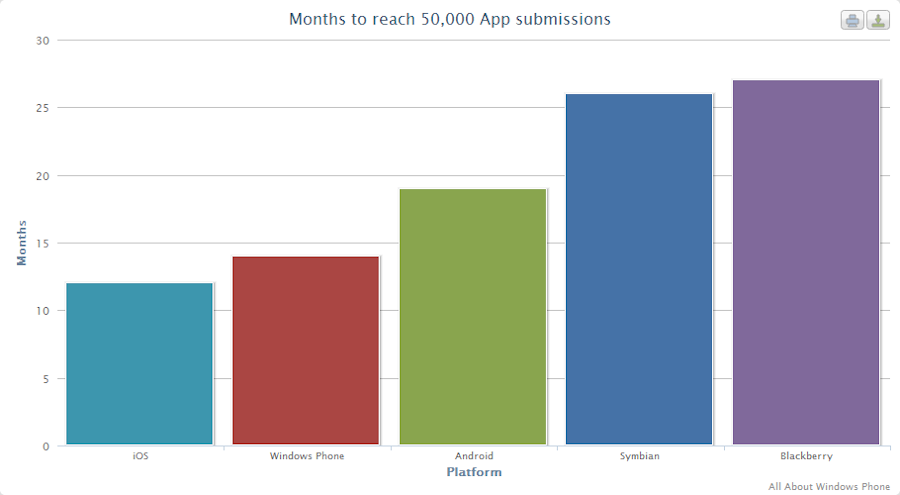 Impressive stuff really. Quite what it means for Windows Phone in the long term I'm not sure. Having a rapid growth of apps is not going to save it. Windows Phone needs a whole load of marketing like what Nokia did, it needs some really cool devices like the Lumia range and it needs lots of networks to pick up the devices like they have done with the Lumia and not like what happened with the recent HTC WP7 devices. Quite why none of the networks are carrying the HTC Titan is a shock.
Source – All About Windows Phone
BBC film Tony Blair's Obituary
Did I miss something whilst drinking and eating? Crazy stuff really.
Source – Daily Mail
CyanogenMod Launcher available for download
CyanogenMod 9 is a Custom Rom based on Ice Cream Sandwich. It uses Trebuchet as its default launcher. If offers various tweaks over the standard ICS launcher. You can now download and install this on your device. As long as your running Android 4.0 and have root.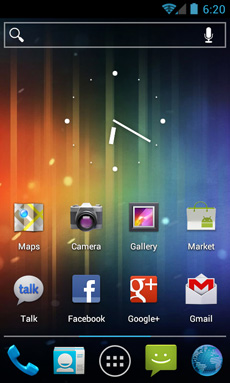 Source – XDA Developers
Speedy LG announce when they plan to update devices to Ice Cream Sandwich
LG via Facebook have announced they plan to update their current devices to Ice Cream Sandwich. Here is the info they posted.
"During the second quarter of 2012 upgrades will begin for the following smartphone models: the LG Optimus LTE, Prada phone by LG 3.0, the LG Optimus 2X, the LG Optimus Sol, the LG my Touch Q and the LG Eclipse. These upgrades will be followed by upgrades for the following smartphone models during the third quarter of 2012: the LG Optimus 3D, the LG Optimus Black, the LG Optimus Big, the LG Optimus Q2 and the LG Optimus EX.
LG will be taking all possible measure to offer a smooth OS upgrade in a timely manner. The exact start dates can vary by market, as each country can have different requirements, depending on the carrier and the smartphone model."
Blimey. I am so glad I did not buy an LG phone. But at least they have announced some sort of time scale.
Source – Facebook
Samsung to look into fitting ICS onto the Galaxy S and Galaxy Tab again
Samsung are reportedly going to look into whether or not they can fit Ice Cream Sandwich onto the devices they said they couldn't fit it onto last week. Basically they said no and lots of people complained so now they say maybe and people stop complaining. They will probably do nothing about it and the problem goes away.
JUST LIKE HTC DID WITH THE DESIRE GINGERBREAD UPDATE. GRRRR.
Source – LandofDroid
Asus issue statement about Hasbro lawsuit
For the last week I have been slighty worried about the Asus Transformer Prime and its UK release. The lawsuit from Hasbro added to that anxious feeling. Luckily spokesman Chang Wei-ming from Asus said "internal assessments conducted by the company found no patent infringement issues" and will not halt any production. I am glad to hear this. Hasbro are obviously annoyed about "Transformer" and "Prime" being used as a product name, but surely a line must be drawn somewhere about patents and trademarks.
Source – AndroidSpin
Notion Ink Adam gets an Ice Cream Sandwich official Alpha release
Can you remember the Notion Ink Adam? Did you manage to get one? Well the company have released an early alpha update along with the source code so that clever developers can help them improve on the release.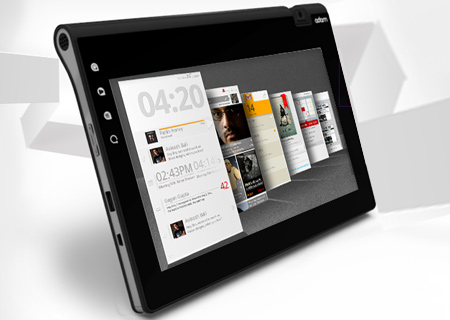 It always was a great looking device. It is great to see a company keeping a device updated and working with the community to get these updates working. I wonder if we will be reporting on AndyPad doing something like this soon?
Source – MyPortableWorld – Notion Ink Blog
So that's pretty much what we have missed over the festive period. No doubt much more has happened and I have not covered it here. If that's the case then sorry. If you have any thoughts about any of these topics leave a comment.