Just added to the Three UK coming soon page is the Nokia Lumia 710 which is the 'other' Nokia phone running the Windows Mango OS.
Not quite as feature packed as the older brother the Lumia 800, the Lumia 710 should be available at a lower price for both contract and PAYG customers.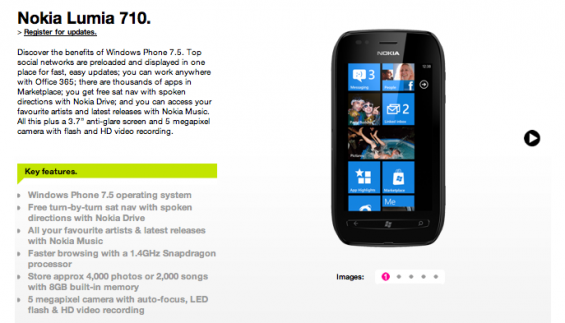 As of yet we have no date or price for the Lumia 710 but as it has now been added to the coming soon page we at least know that Three are planning to stock it and it could be on sale very soon.
CoolSmartPhone have a great relationship with Three who kindly arrange for device loans so hopefully we can arrange a loan once this becomes available.
If you cant wait for the Lumia 710 and would like to get your very own Lumia 800 why not enter our great competiton where you wan win a 800 device thanks to Three.  To enter the competition check the link at the bottom of the page.
Links: Three Coming Soon – Lumia 800 Competition