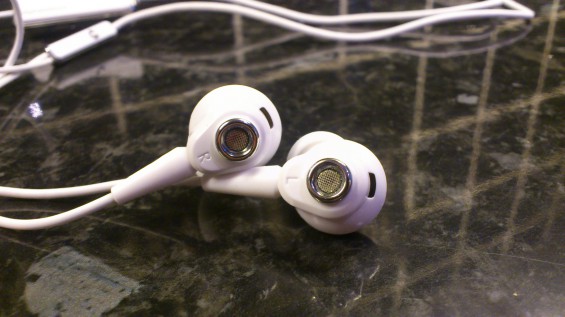 I'll be honest with you now. I've reviewed phones for many years now and I've seen a lot of in-ear headphones. You know the sort, they're provided with every phone and usually end up staying in the box. Why? Well, put simply, they're bobbins.
Why do I say that ? Well, why are those crazy-expensive headphones selling so well in electronics shops? It's simply because they're better.
At first glance these look like your ordinary in-ear headphones, but they're not. These Digital Silence DS-321D headphones use some rather clever technology from Wolfson to reduce those annoying external noises from everyday life. It's not just some funky looking ear-buds either. You charge them via a microUSB point and it'll then actively knock out that background noise.
Once charged they'll last for a solid 14 hours. That's a helluva lot of listening time and hey – don't worry if those batteries go flat, you'll still be able to use them as normal headphones.
Now, we decided to take a video showing you these headphones in action, so click on to see them in the flesh. Oh, and do ignore me when I state that it's charged via "minUSB", it's not, it uses "microUSB" instead.
Here's the ear buds themselves. The main inner section goes into your ear whilst the rear part does the clever noise-reduction stuff. They're comfortable and … oh screw it, let me say this right now so that you don't have to wait, the sound quality from these is stunning. Imagine you're in your car and you whack the radio up full blast. Imagine that you switch to the "bass" setting and whack it up full. Are your speakers distorting ? If they are, you'll notch it back and back until it's just on the verge – increase it up once more and it'll distort, but down one and it'll sound just right. Gahh.. it's hard to explain but that's just where these are. When I'm listening to music the bass response is so dangerously close to distorting that it's .. well, it sounds pretty spot on to me. You can tell that some audio guru has sat there doing all this tweaking.
Here's the magic box that does the noise cancellation. The headphones provide HD quality music playback and, when you throw the switch on this clever gizmo, digital ambient noise cancellation. Inside this box is the Wolfson's "myZone" technology and it did admirably well at stopping noise. My wife was wearing them whilst mowing the lawn (I was sat on the sofa with a beer…not) and said that she could hardly hear the lawn mower itself.

On the back of this unit is a clip for attaching to your clothing which you can see at the bottom. You can also see the charging point here. In the box you get a small cable for connecting to your PC or laptop, so you can charge and use your headphones at the same time.


Further up the cable there's this multi-function call control button. It'll let you answer and end calls and includes a microphone so that you can use these headphones as a hands-free kit.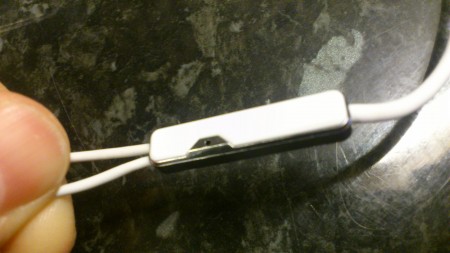 The rechargeable battery did very well indeed and I liked how comfortable thosebehind-the-neck headphones were. You also get a rather nice zip-up pouch which is stitched around the edge. It definitely has a sense of class about it.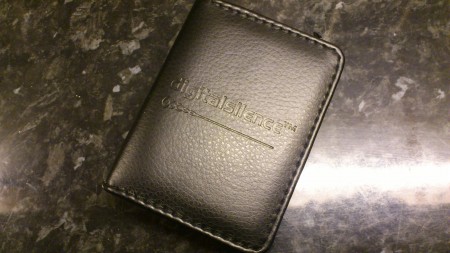 Conclusion

Now, I've a problem here. I really don't want to send these back. So, if we can all keep this review under our hats then I'd really appreciate it. See, I'm not a big fan of those "over ear" headphones and these, without a shadow of a doubt, are the best in-ear headphones I've ever tested. Not only that, but you can use them as a rather lovely hands-free kit. The only thing I do wish is that there was some sort of auto-shutdown feature as I have left the power switch turned on when not in use.
Amazing. The sound is clear, crisp, responsive and deep. You almost wish that everyone else around you could hear how good it is. Never have I had headphones that block out as much of everyday life and, quite simply, I love these things. Get some. We've just had a look around and you can get them for around £69.99. Believe me, they're worth it.