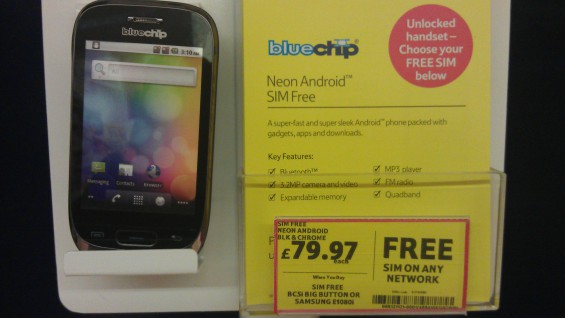 On a trip to Tesco Ant spotted this, the Neon Android from a company called Bluechip. There, next to the "I Can't Believe It's Not Butter", is this bargain-bucket SIM-free phone. It's £79.97 with a Tesco SIM card and, although the specs aren't exactly stellar, it could be worth considering for a Christmas present.
Now, I know what you're thinking, "Bluechip? Whoooo?????" It seems to be a rebrand of the Umeox A502 (I know, we're not exactly familiar with Umeox). It has a 3.2″ HVGA capacitive 480×320 pixel screen, WiFi, Bluetooth, GPS and a 3.2 megapixel camera.
Tesco also have the Bluechip BC5i "Big Button" phone, which kinda looks like a calculator but is ideal for the elderly.