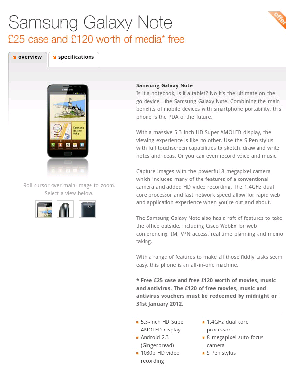 We spotted it as "Coming Soon" a few days back and now it's arrived… for new customers.
The Galaxy Note is a rather large and rather sexy phone which has a dual-core 1.4GHz CPU and 5.3″ screen. Orange look to be giving away some goodies as part of the deal including a free case worth £25 and £120 worth of movies, music and antivirus software.
We have a Galaxy Note right here and there'll be an overview video online in a moment.
Thanks to John Kyle for the tip.
Link – Orange.co.uk