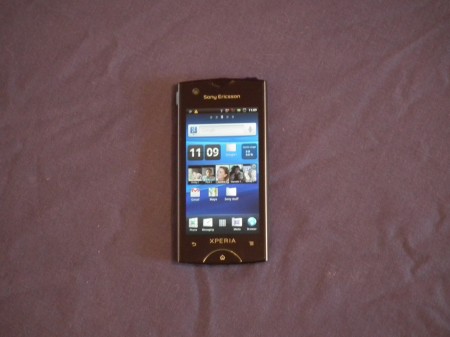 There has been quite a lot of activity from the Sony Ericsson design team this year and the latest device to be brought forth from their creative minds is the Xperia Ray. This phone is not your usual fair from SE in that it does not fall into the usual full size line that is now the Xperia range but it does not also fall to the Mini Range. It seems to float wafer like on the boundary of both. This means that although it is small in stature it is certainly not lacking in grunt under the hood.
If I can continue the car analogies for a moment longer then think of the Ray as a coupe to you family estate, small quick and punchy for when you want some fun but not very good at allowing that enjoyment to be felt by others.
Hardware
So on to the Hardware of the unit. As with all touchscreens, the phone is dominated by its 3.3″ touch screen that is proudly sitting front and centre. This screen has taken a bite out of the Arc and Neo's pie and also has the magical Mobile Bravia class display on board. This in turn will pump up your viewing experience of movies and photos dramatically and really separates it from other devices t this price point. Above the screen we have a front facing camera, a light sensor and the proximity sensor. Below the screen are the Android keys with the Home key being on a Semicircular button with LED surround. This is flanked on either side by capacitive menu and back keys both of which are responsive, pleasant to use and do have the standard white backlight when in use. On the left side there is a port for using the charger which is Micro USB and will allow charging and media transfer simultaneously from a PC/ Mac. Down the right side we have the Volume rocker which is quite small but is still more prominent that that of the its big brother the Arc. This allows for better control of volume whilst using headphones etc from the pocket.
Speaking of headphones the standard 3.5mm headphones/headset jack lies at the top of the device along with the power and lock key. The bottom has not got much going on apart from the battery door catch and pin hole mic.
Moving around to the back things get interesting again as this I were SE have smuggled the Camera from its big bother the Arc into this smaller body. It has all the feature of it's more powerful kin like the the 8.1 mp resolution and the Xmor R sensor to give lower light photos a bit more punch. I will cover the camera a bit more later in this review.
Finally under the sleek back panel is were we find another noticeable improvement for this class of device. SE have managed to fit a 1500mah beast of a Battery into this phone whilst still keeping it a slim 11mm. We have also got the SD card (4gb in the box expandable to 32gb) and the Sim card. The back panel is not quite as flimsy as other devices I have used recently from SE and Samsung but it is still plastic so a little bit of care when removing it would be advised.
Under all of this we find a 1ghz Snapdragon processes paired with an Adrino 205 GPU. This combination is the same as that of the Arc and the Neo so we have already been able to witness what it has to offer. But I will come onto that a little later on.
Over all I am impressed with the hardware and it is a popular design from what I have seen when I have shown it to colleagues and friends. As you can see from the picture this is the all Black variant but there are other colours available for you to choose from.
Software
Like all the recent Xperia range the software on this phone is based on Android 2.3 aka Gingerbread. That also comes with a light frosting of Sony Ericsson UX to help it along. Usually I am not a fan of overlays on top of pure Android in fact it is one of my pet hates but in this case it is not that bad. There are in fact a few niceties that are spread around the phone. Unfortunatly the first thing you are presented with after you go through the very helpful setup is a home screen plastered with Timescape. Now before you run for the hills hold on this is only a Timescape widget and it can be removed huzzah!! Mediascape is also absent in the new software and has been replaced by the standard Gallery and a SE Music app which is similar to the previous version and has all the things that you would need. There is also a Facebook Inside App that works wonders in getting all you Facebook details in sync with you Ray including your albums which is a nice touch. Other than that and the usual bloatware (Music services, Video services etc) the rest of the phone is very near Android as Google intended it. This was one of the reasons I have enjoyed using the phone so much as I have alway been a fan of the Stock version of Android over the customised versions available but each to their own.
Camera
This is an area were SE have really excelled themselves and is what I think makes this Ray a great proposition on the market at the moment. At the time of writing there are very few phones available at this price that are using an 8mp Camera. The fact that this also has the Xmor R Sensor in there too just pushes the bar up further. In short the camera is brilliant it is almost an exact replica of the one in the Arc and I have taken test picture (see below) on both phone of the same image to tray and demonstrate the difference between them. I am not a highly skilled photographer so I am in no position to comment on quality but I do know that these pictures are of a high enough standard to be printed and used as picture in your home, I have one on my wall. If you want a much more in depth look at the Camera test then I would recommend reading the Ray review on Gsm Arenaas that will answer your questions for you.
I will briefly mention the video camera as I have also been incredible impressed with the quality that is produced by the 720p capable Camera. Again this can be read into further by going onto the above link.
Summary
I would like to start my summary by firstly saying well done SE as you have made a great phone in a size that has been left on the wayside by manufacturers as the vast majority are all going bigger these days. The amount of tech that has been crammed in here still astounds me. The phone is going to be a huge hit with both men and women but I can see it mainly going to those who don't want to be holding a large slab against there face, though still want the power made available by the Snapdragon processor.
I think this is a genuine alternative to an iPhone 3GS and defiantly a good option over and above the Galaxy Ace and the HTC Wildfire S. For those of you looking for a small but powerful phone for your loved ones this festive season then this is when well worth a look as they will not be disappointed