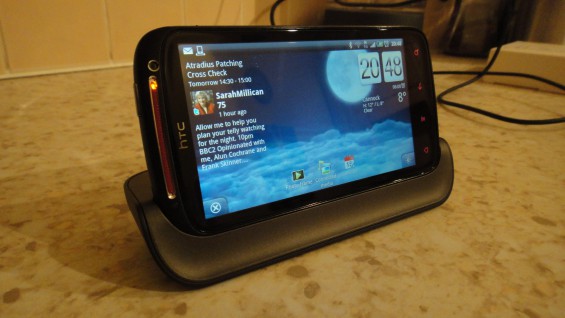 This cradle device synchronises and charges the HTC Sensation / Sensation XE. Plonk the phone in and it'll angle your phone at the right angle for watching videos, checking the weather or using the phone as a bedside alarm-clock.
Drop the phone in while the special video button is illuminated and it will display whatever was on the phone before (i.e lock screen home screen etc). If you drop the phone in with the video button not illuminated, or you press the button while the phone is in the cradle, it'll display the dock screen. The dock screen shows the latest "Friend Stream" updates, the next calendar appointment and current weather in the background. You also get three options to choose from – Photo Frame / Connected Media / Calendar.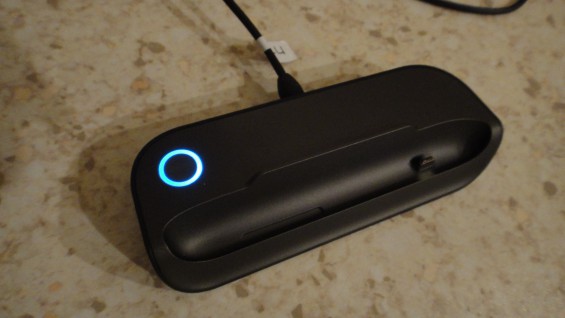 Here's the "Connected Media" screen – this is for pushing content from the phone to DLNA compliant kit. If your TV is whizzy enough to do it then you can beam music and video out to that. The "Photo frame" mode shows a pretty slideshow of your photos.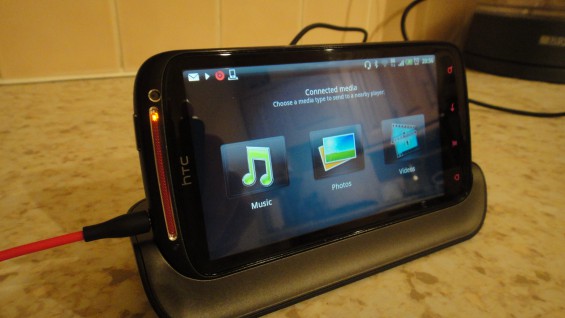 When in dock mode the screen stays illuminated, it'll dim after a settable time but not go off unless you push the screen wake button, then it turns off.
The headphones still connect when in the cradle. This is great for watching movies on the screen at your desk.
The biggest drawback is that the volume control is on the same side as the microSD port. This means that when you dock it you'll have no access to the volume unless you go through Settings -> Sound -> Volume. It's a little bit annoying when the built in music player and video have no soft (on screen) volume controls.
I'm using mine to dock my phone at night and charge and planning to get a second one for work. The best price I've found was from a company called MobileFun for £24.95 + £2.50 postage – ordered Monday afternoon delivered Tuesday morning. Boom.
Click on for all the pictures.
Link – MobileFun
Credit – Anthony Morgan