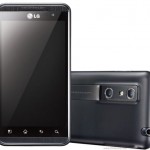 The Optimus 3D will be making the jump to Android 2.3 Gingerbread starting next week. The update brings not only the usual set on Gingerbread enhancements over Froyo but a number of extra improvements too, like faster data speeds and improved multimedia experience.
The update will push the download speeds over 3G with HSPA+ to 21Mbps (over 14.4Mbps). The upload speed of the LG Optimus 3D will remain 5.76Mbps.
The 2D video camera, which shoots up to 1080p, receives the same image stabilization functionality that the 3D video camera (which records 720p 3D videos) has with the current software. The Gingerbread update will also improve the video recording in general, but the press release didn't offer any specifics.
There's a new 3D Video Editor, which as the name suggests will let users edit their 3D videos right on the device (but also works with regular 2D videos). Startup time for the Gallery app on the LG Optimus 3D has been reduced and the phone will last longer in MP3 playback.
The update will begin its rollout next week in Europe for unlocked phones, other markets will follow suit by the end of the year.