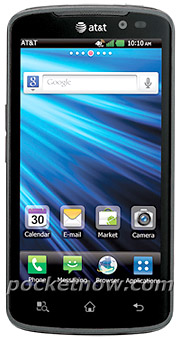 Here is the first official photo of the LG Nitro HD, although it's not really that exciting because it is just the US version of the LG Optimus LTE with a fancy name which is heading over to AT&T sometime soon.
As its name suggest, the Nitro HD will sport a vivid 1280×720 pixel 4.5" HD-IPS LCD screen, which sounds pretty impressive. The sleek device is powered by a mega 1.5GHz dual-core Scorpion processor on a Snapdragon chipset which is accompanied by 1GB of RAM.
The specifications get even better on this device, with its stunning 8- megapixel camera and LED flash at the back, and the device sports 4GB of built in internal memory, which is quite nice to see on this multimedia device.
The Nitro HD will be released on AT&T's new LTE network, which means 4G connectivity speeds which i must say is excellent, but it still has its competitors on the same LTE network, the upcoming Galaxy nexus and HTC resound, but there isn't any word on pricing, but we do know it's not going to be cheap!, but you pay for what you get, and I love this device!
Link – pocketnow.com