With a new version of Windows Phone now available in Mango (7.5), we are starting to see a new range of devices coming onto the market with lots of new features and the HTC Radar is one of them.  We were lucky enough to be at the launch of this handset recently in London, and now we managed to get hands on a review model for a short time to cover here.
This review device was sent to us by the kind people at HTC PR who are a great supporter of the site and allow us to bring you all these reviews on new handsets which have just hit the market.
The HTC Radar has some very impressive specifications as you would expect on a device these days and they are:
Windows Phone Mango (7.5)
5 Megapixel Camera with 720p Video
HSDPA 14.4mb/s
HSUPA 5.76mb/s
Bluetooth, WiFi & GPS
[yframe url='http://www.youtube.com/watch?v=DcFlsSRAOWQ']
When you look at the specifications and even the actual design, you can see that the Radar is the upgrade to the Trophy which was a launch device but never seemed to take off, mainly due to the fact Windows Phone 7 was so new and was still missing a few features it was never a 'mainstream' phone but there to show what the OS was all about.  And if anything the features lacking on 7 and the Trophy makes the Radar and Mango stand out even more as an impressive device.
Powering all these specs is a 1Ghz Processor and a 1520 mAh battery which gets you though a day even with quite heavy use, quite a surprise really considering on mos Android phones you are lucky to get a full day with good use so Windows Phone has some great power management.
There is a 8GB of memory built in but as with Windows Phone devices no support for a memory card so your 8GB is all you will be getting, If you have loads of music or have videos you want to keep for on the move you might find the 8GB a little too restrictive especially as there are other devices out there with 16GB storage, but considering this is a mid-range handset at the same price point in the market at £329.99 sim free compared to £400+ other options or even a £450+ HTD TITAN you are getting what you pay for with memory.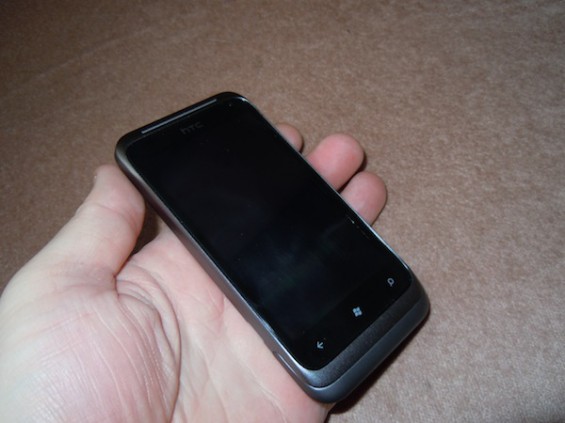 Looking at the front of the device you have the large speaker grill at the top, next to this is the front facing VGA camera used for video calls over WiFi using an app such as Tango which is now available, hopefully the deal with Skype means you will soon be able to Skype video chat over the mobile device too .
The screen is a 3.8 inch display with a resolution of 480 x 800 pixels and is an enjoyable size to use as an everyday phone.  It's not too large like we see on the SGS2 which is 4.3 inch and not too small like the 3.5 inch screen seen on iPhones for many years now and in fact one of the biggest requests from Apple fans before the 4S was announced they wanted was a slightly larger screen so 3.8 is a nice midway point.
Below the screen are the four standard Windows Phone buttons on nearly all phones and these are touch sensitive, not actual buttons and are for BACK, WINDOWS and SEARCH which you will see on all other handsets running this OS.  Something new in Mango is the multitasking feature which can be accessed by just holding onto the BACK arrow and you are then presented with preview panels you can swipe left and right to navigate through and then just tap on the one you want for it to come forward.  FINALLY on Windows Phone can you stream music over an app such as Tune In Radio and send texts or be using the web browser.  In fact in the last few days Spotify have launched their app for the OS so you can get your own music while you are busy doing other things.  And music controls are at the top of the lock screen meaning you can control the music quickly and easily.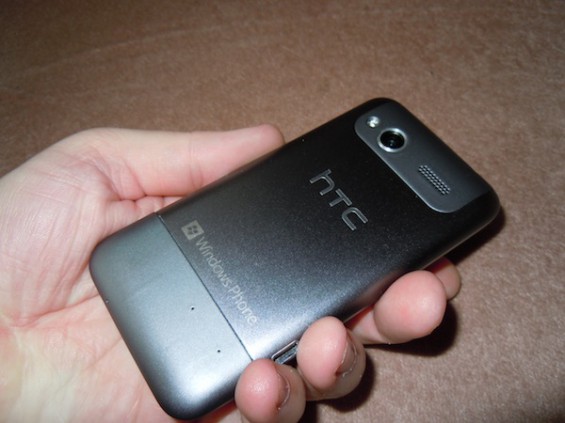 The back of the phone has the 5 megapixel camera with single LED flash.  Although disappointed at 5 megapixels over an 8 megapixel for what most people use their camera phones for a 5 megapixel is plenty especially as HTC have used an f2.2 lens which is even better for low light photos and on testing this really did show when you compare to a 2.4 or 2.8 lens on a phone.  When we were attending the launch event in London I was able to test the camera there and I remember the low light photo quality was something which really did stand out for me and will be something lots of users will appreciate when using in real world conditions.
CAMERA EXAMPLE COMING SOON
 Video is 720P resolution so still classed as HD.  This is now looking standard on smartphones now (remember the days we were blown away by VGA quality?).  The quality depends on the location and the situation, for example in low conditions the Radar does not handle this too well often making the video look like a low resolution poor colour balance mess with objects looking too dark to even tell what they are at times.  Take the phone outdoors and things do improve although not as good as we have seen on other devices.  Sound is captured and is pretty good even at loud events like a concert or on a busy road.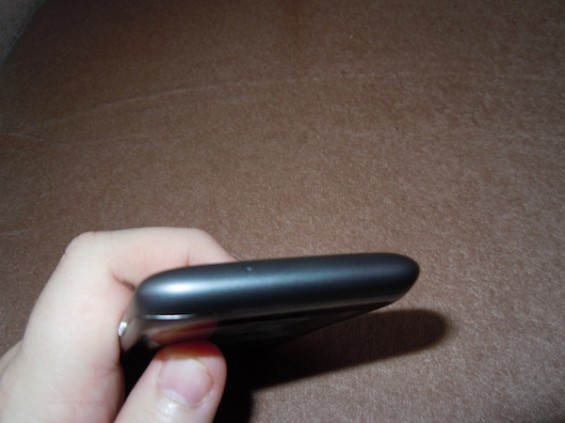 The bottom of the phone is really plain only having the speaker for voice calls.  What is nice is to see connections moving away from the bottom of the phone like we used to see on older models a year ago.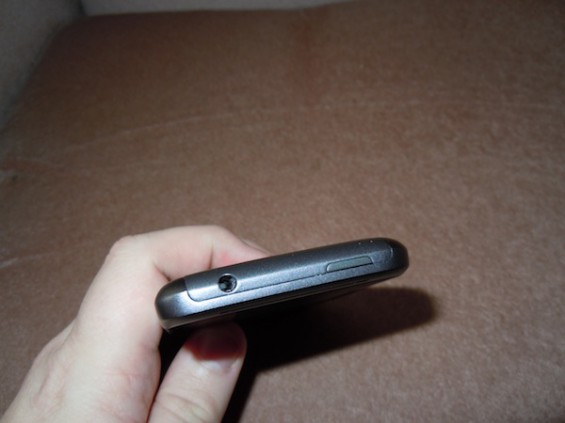 At the top of the handset is the standard 3.5mm headset jack which most manufacturers use now which is great because it means it's now a standard, imagine you have a fantastic expensive pair of headphones you want to use for your music, well now it wont matter what phone you have they will work.  This means anyone with an existing phone with a decent  3.5mm connected headset can still use that on the Radar.  You also have at the top the On/Off power button which is also used when the phone is on to put it in and out of standby mode to help extend battery but also to make sure you dont accidentally call anyone.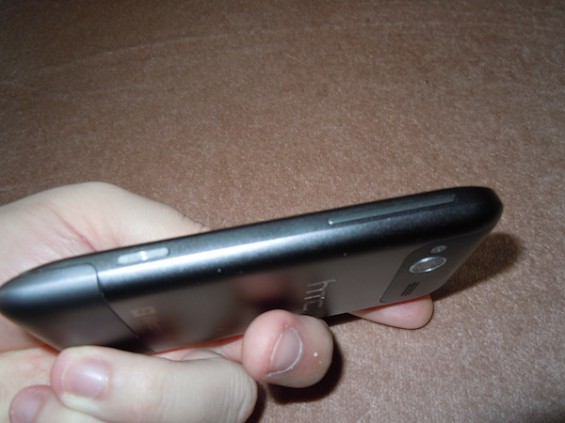 The left side of the phone has the volume up and down keys which as you would expect controls the volume for in calls and it can also be used on the main menu to control the volume of the phone and to switch onto Silent or Vibrate.  This is not a new feature and is found on lots of phones already but a feature well worth pointing out as it saves going through menu after menu to change the volume of the ringtone.
You also have a dedicated camera button and this is a fantastic addition as it means you can hold the phone like a camera on it's side and have a button you can press half way down to focus and then push fully to take the picture.  Sounds simple but so many manufacturers are doing away with this button and need you to take on a small part of the screen to take a photo, the problem with this is when your having to press on the screen you can block part of the screen and when you want that perfect picture you might miss something.  This is a feature I would love to see more of on future phones.
The right hand side of the Radar just has the MicroUSB port which is used for plugging the phone into a computer for software updates and for transferring content.  Windows users will need to install the Zune software which gives you full access to manage the phone including buying a Zune Pass for unlimited music downloads or for adding/removing devices, you have a 5 device limit for downloaded content so if you have a 6th phone you need to remove one.  Unfortunately Mac users do not get the same level of detail in the management software.  If you are a Mac user you need to download Windows Phone 7 Connector which lets you do software updates and backup your photos/videos/music but thats it.
In fact the whole software either Zune or Connector is really poor for phone management, to do something like backup contacts you need a plugin for Windows which connects to Outlook/Mail, for Mac users you have to find another way.  By far the easiest way to manage contacts is by syncing them with your email account…… exactly like already seen and enjoyed by Android users everywhere.
Final Thoughts
The HTC Radar is a very nice handset with specifications you would expect from a new Windows Phone.  Having owned a Trophy for a short time the biggest problems I had was actually with the OS lacking some features I wanted/needed and not with the hardware so when a new version of the OS came out you could install on the Trophy and have a whole new experience.  Thankfully though the new hardware has made an improvement especially in looks and build quality.
Something which is a nice addition is the front facing camera used for video calls over WiFi, an example of an app now available for Windows Phone which does this is Tango and can be downloaded free from the Marketplace.  Tango is also supported on iOS and Android so you can have free video calls around the world on multiple handsets.  And with Microsoft now buying Skype it wont be long until you can also Skype from a Radar although this is yet to be confirmed but would seem an obvious step forward.
With the other Mango phone from HTC being a massive 4.7 inch monster in the TITAN, the Radar will be the phone for most people who want an affordable phone with good features and easy to use plus have access to apps.  The TITAN is more of the top end 'geeky' phone where the user does not mind such a massive screen but this also comes with an added cost over the Radar.
With phones moving on so fast it will be interesting to see how the Radar sells when compared to other Mango phones coming onto the market with Acer making an affordable handset now and then there is the fact Nokia have entered the scene with the 710 being very affordable or even the Lumia 800 which is getting a lot of attention.
But from HTC the Radar is a very good effort and a great mix of hardware and software for an affordable price.  Well worth a look if your in the market for something new